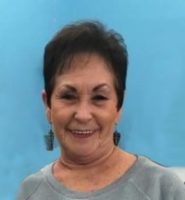 Doloris McArthur Nelson, 73, passed away peacefully June 10, 2021, surrounded by her loved ones at Utah Valley Specialty Hospital.
Doloris was born on May 1, 1948 in Price, Utah  to Archie and Devonna Gordon McArthur.  She married her cowboy sweetheart, Lynn Nelson, on October 19, 1964 in Lawrence, Utah.  He preceded her in death on July 14, 2016.
Doloris lived a classy, fulfilled life.  When her arms weren't full of grandkids she loved working and spending many hours in her yard.  She enjoyed a cold glass of iced tea and an ice cream cone from Bruce's Mall.  She loved to work and camp at her second home on Nine Mile.  Rodeo was always her life, from being the rodeo queen to watching every show on the TV.  On Sundays, her home was full of family and grandchildren to enjoy Sunday dinner.  Her grandchildren and great-grandchildren were her life and she didn't miss a second with them.
Doloris is survived by her children, Midge (JD) Mangum, Shane (Linda) Nelson, Mindy (Jerry) Birch;  grandchildren, Cole (Alexis) Sherman, Shane Hopkins, Cy (Sheryl) Nelson, Bailey Birch, Jaycee (Josh Justice) Birch, Shaydon Birch; great-grandchildren, Caleb Waller, Vivian Nelson, Eva Sherman, Ruger Birch and Claire Nelson; sister, Dixie (Bill) Allred; sisters-in-law, Olive McArthur and Flora (Richard) Motte; and her best friend, Sherrie Gordon.
Preceded in death by parents, Archie and Devonna Gordon McArthur; mother and father-in law, Newell and Madge Nelson; siblings, Wendell Jensen, Perry McArthur, Celia (Roy) Oviatt, Carol (John) Oliver, Foster McArthur; sister-in law, Mickie (Cliff) Carter; and grandson, Archie Newell Sherman.
Graveside services for Doloris will be Saturday, June 19. 2021, 10:30 a.m., at the Cleveland Town Cemetery.  Family will receive friends at the Nelson residence (495 West Main) in Cleveland Friday evening from 6:30-8:00 p.m.  Arrangements entrusted to Mitchell Funeral Home where friends are always welcome daily and may share memories of Doloris online at www.mitchellfuneralhome.net