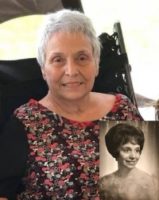 The family of Toni Bonaquisto Sacco is honored to announce her Memorial Mass and Rosary, to be held on Saturday, June 26 at 10:00 a.m. Toni passed away peacefully on December 6, 2020, after a heroic battle with cancer. As a result of the pandemic and winter season, we delayed her memorial to allow for gathering.
The Mass and Rosary services on June 26th in honor of Toni will be held at Good Shepherd Catholic Church 103 3rd East in East Carbon City, Utah. Toni is a beloved wife, mother, sister, grandmother "Grammy", great grandmother "Nonna", and friend to many. Friends and neighbors are welcome to gather with her family to share memories of Toni and to celebrate a life well-lived at her Mass.
A blessing and dedication of her grave will be held following the Mass at Price City Cemetery 595 East 400 North in Price, Utah. A luncheon in Toni's honor, will be given, following the blessing of her grave, at the Tuscan Restaurant 100 North 67 West in Price.
We appreciate every extension of gratitude for Toni's life and every message of condolence that has been sent to her family; we know Toni's love for ourselves and have been inspired by all of the lives she touched beyond our own.
In lieu of flowers, donations to Good Shepherd Catholic Church in East Carbon are appreciated.
Toni Sacco
EAST CARBON-Our beloved mother, grandmother, great-grandmother, sister, wife, aunt, and friend, Toni Bonaquisto Sacco, passed away peacefully at her daughter's home on December 6, 2020 surrounded by her family after a courageous battle with cancer. Toni was born on June 20, 1946 in Dragerton, Utah on Father's Day to Anthony "Tony" Bonaquisto and Vera Farlaino. She graduated from East Carbon High School in 1964. She married Buddy Oldroyd in 1966; later divorced. They had two children, Wendi and Michael. She was remarried in March 1988 to Frankie Sacco. Toni spent many years as the lunch manager at Petersen Elementary. She also enjoyed her time spent employed by family at Miner's Trading Post.
Toni was a member of The Good Shepherd Catholic Church in East Carbon, Utah. Some of her fondest memories were bowling with friends on the Sunnyside Bowling League. She enjoyed her walks on the trail with her closest friends, reading, and coffee on her porch. Toni's whole world was centered around her family. She was sweet, selfless, but oh so stubborn.
She is survived by her husband, Frankie Sacco; her children, Wendi (Gary) Smith, Bountiful, Utah; Michael (Michelle) Oldroyd, South Jordan, Utah; sister, Patti (Bob) Scarcelli, Salt Lake City, Utah; nine grandchildren, Karli, Kennedi (Dane), Ryleigh, Michael, Devyn, Avery, Jeff Jr. (Ashley), Brooke and Emma; six great-grandchildren, Charli, Liliana, Kollins, EmmaRose, Jeffrey and Llewellyn; niece, Traci (Wes) O'Nash, Emily; nephew, Jim (Melina) Scarcelli, Roman. She is preceded in death by her parents; grandparents; aunts and uncles; and special nephew, Anthony O'Nash.
Toni requested to be cremated. Due to COVID-19, her celebration of life will be held at a later date. The family would especially like to thank South Jordan Huntsman Cancer Clinic, Huntsman Cancer Institute, Dr. Glenn Etzel, Dr. John Weiss and staff, Mitchell Funeral Home, and CNS Home Health & Hospice, especially Lauren, Amy, Jamie and Jeannie who lovingly took care of Toni in her final months.
Memorial Mass and Rosary Saturday, June 26, 2021, 10:00 a.m., Good Shepherd Catholic Church, East Carbon. Committal Price City Cemetery, Price. Arrangements entrusted to Mitchell Funeral Home where friends are always welcome daily and may share memories online at www.Mitchell funeral home.net