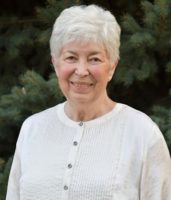 We say a dear goodbye to Janet Lynne Peterson Brown, who passed gently on July 12, 2021 in her sleep as a result of her ongoing battle with breast cancer.
She leaves behind a husband, Philip G. Brown; six children, Neena Mathews, Kari Bennett, Mike Brown, Helene Fry, Paul Brown, Steve Brown and their spouses; her five siblings, Erland Peterson, Susan Breinholt, Dolores (Chuck) Brown, Colleen Bennett and Sonja Richardson; 26 grandchildren – all of whom she loved dearly and with all her heart.
Janet in turn was loved by all because of her sweet, giving and Christlike spirit and was renowned for her homemade bread and Norwegian pancakes. She lived to serve others and departed with concern for others' wellbeing, including who will make Phil bread, or anything for that matter, when she's gone.
Janet lived a life full of adventures with family. She was born April 26, 1945 the second child of Dean and Lyle Peterson in Provo, Utah. She survived polio as a young girl through the support of loving and attentive parents. Because her father was part of a government agricultural program, they moved to Iran, where Janet was baptized. After living in Germany for a time, the family returned to Provo, Utah where she attended BY High and was voted homecoming queen. She then attended Brigham Young University. Janet served a mission in Norway for The Church of Jesus Christ of Latter-day Saints, and on her return, married Philip Brown in the Salt Lake temple.
Janet worked as secretary to the General Relief Society Presidency while Phil finished school, and then together began their adventures when Phil was drafted and they began a family. They lived in Georgia, California, Kansas and Colorado before settling their little family in Price, Utah in 1976, where Phil built them a house and Janet made it a home. She lived and served in the loving 1st Ward and 7th Ward families, in the Price Stake, for over 45 years.
They had their last two children and raised all six in Price. She loved, nurtured, taught and supported them as they grew into adulthood and married. Her family grew as grandchildren were born, whom she equally loved, taught, supported and to whom she fed her legendary Norwegian Pancakes. Phil and Janet served a couple's mission to the Dallas Texas Mission from 2012-14 where Janet loved and served the people in east Texas. Most recently, Phil and Janet have served by working in the Manti temple, at the Price Home Storage Center, as well as holding callings in the ward.
Family was everything to Janet, and she was everything to her family. We will miss her fiercely and remember her daily as we endeavor to carry on her legacy of love for family, Jesus Christ, friends, others in need, Norwegian pancakes and homemade bread. We will truly feel her loss.
Funeral service, Monday, July 26, 2021, 11:00 a.m. Price 7th Ward (995 East 700 North Price, Utah 84501) where the family will receive friends one hour prior to service. Interment, Cliffview Cemetery. Arrangements entrusted to Mitchell Funeral Home of Price where friends are always welcome daily and may share memories online at www.mitchellfuneralhome.net.