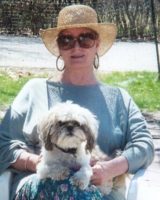 Our loving mother, grandmother, sister, aunt and dear friend, Peggy Jean McLain, 80, passed away July 18, 2021 at her home.
She was born July 31, 1940 in San Francisco, California to Glen Hogan and Frieda Conrad Neighbor Collins.
Peggy was an accomplished artist who loved to paint just about anything.  She also shared a deep love for the outdoors and playing the piano. Peggy was very generous and willing to help anyone in need. She lived for her family and valued the relationships that she made.  Peggy will be sorely missed by her family and many dear friends.
She is survived by her son, Mike (Brandy) Miller; sister, Janice Alderson; brothers, Rick and Dennis Terranova; step-sons, Chris, Lance, Buzz and Kevin Merrill; step-daughter, Zan Merrill; many loving grandchildren and beloved nieces and nephews.
Peggy was preceded in death by her husband and love of her life, Gordon Merrill; her parents; and a daughter, Kelly Miller.
Private family services will be held at a later date.  Services entrusted to Mitchell Funeral Home where friends are welcome to share memories of Peggy online at www.mitchellfuneralhome.net