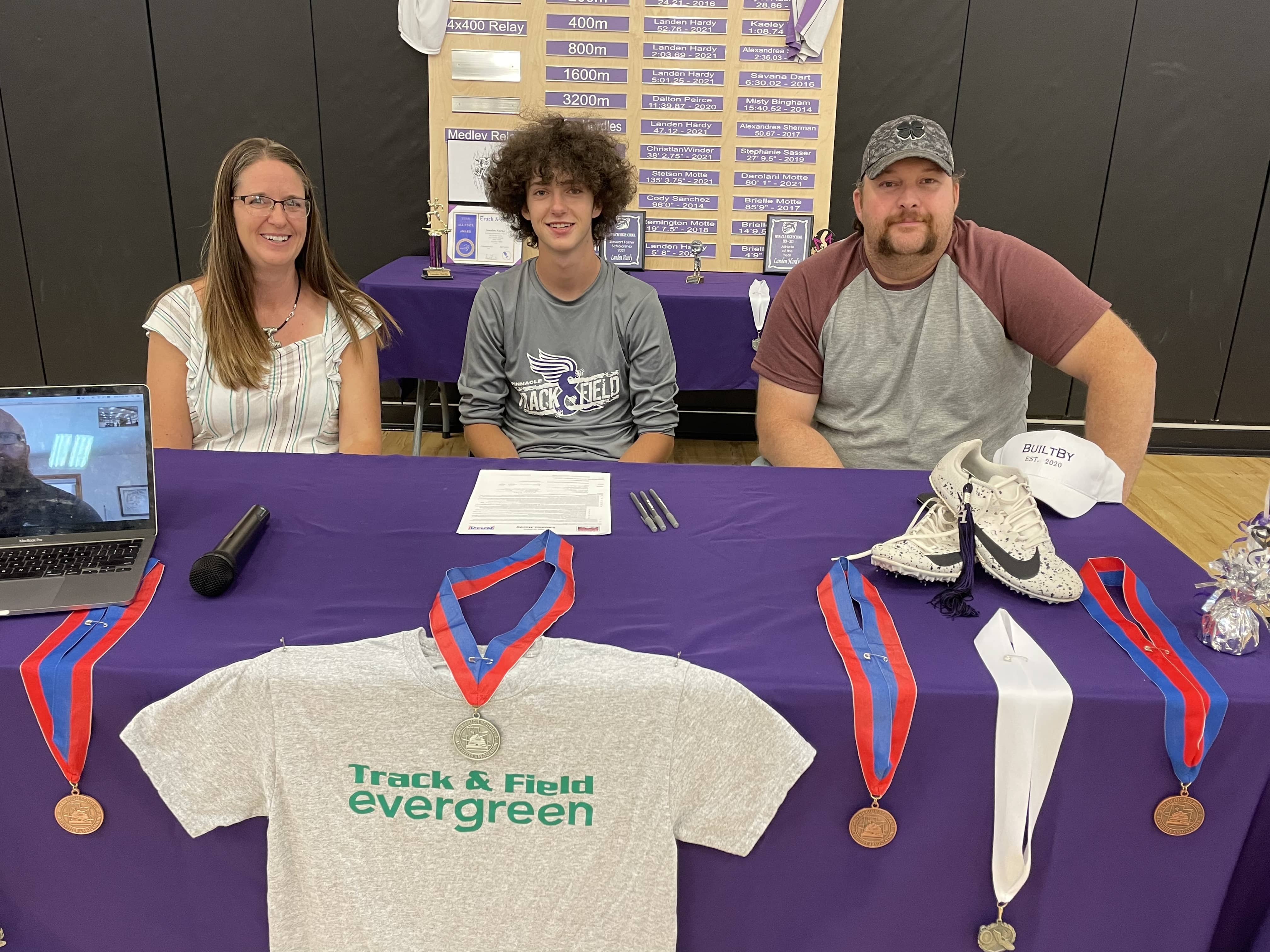 Pinnacle Academy High School senior Landen Hardy signed a National Letter of Intent to run track and field at Evergreen State College Wednesday afternoon at Pinnacle High School in Price.
Hardy, a four-year contributor at Pinnacle, will enroll at Evergreen for the upcoming fall semester. Recently completing a standout senior campaign, he leaves Pinnacle with five track and field school records.
"Landen has really set a great standard for our school," said athletic director Mark Stuckenschneider at Wednesday's ceremony. "We are really proud of his accomplishments. I'm sad that we are losing him. It's going to be a different team without him setting those standards, but I'm excited to see what he is going to do in the future."
Wrapping up his track career at Pinnacle this past spring, Hardy finished second in the 800 meters and sixth in the 400 meters at the 1A State Championships. Also a member of the cross country team, Hardy finished 5th overall at the State Championship meet this past fall.
Hardy set school records in the 400 meters, 800 meters, 1600 meters, 300 hurdles and high jump. The standout performances caught the eye of Evergreen head coach Zeb Hoffman, who attended the ceremony by way of video conference.
"Before I ever heard of Evergreen I was getting looked at by colleges back east, but I didn't want to travel that far," said Hardy. "Coach Hoffman contacted me and gave me ideas about being a foundation for the team. I like the idea of being a building block and they also offer the right classes to put me on a career path."
Located in Olympia, Wash., Evergreen State College is part of the National Association of Intercollegiate Athletics (NAIA), competing in the Cascade Collegiate Conference. The athletics department consists of seven different sports including basketball, which Hardy will attempt to play as a walk-on.
"Pinnacle means everything to me," said Hardy after signing his LOI. "They've done everything they could for me. The teachers and coaches have helped me anyway they could. They've pushed me to be a better person."