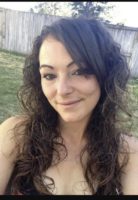 Jennifer Nicole Jorgensen lived in Price, Utah and was 31 years old. She passed away on September 12th, 2021 at home peacefully in her sleep. Jennifer was born on March 21st, 1990 in Ogden, Utah to Barbara Ann (Person) George and Travis Jeffrey Jorgensen.
Jennifer was raised in Huntington, Utah and graduated from Emery High School. She Loved Motocross, fishing, hiking, camping, and anything to do with the outdoors. She had a deep love for animals. She was a wonderful and fun person that will be missed by all. She was an experienced foreman and builder who enjoyed working with her hands to create. She liked to stay busy and keep moving. She was very hard working, driven and motivated.
Jennifer was always a very kind and giving person. She cared deeply for others and was always willing to help others with anything she could. She wasn't afraid to speak her mind and all who knew her, knew exactly where they stood with her. She was funny and enjoyed being goofy. Jennifer's life was full of love and laughter. Although she is on her next journey, she will be deeply missed by many people.
Jennifer is survived by her mother Barbara George and her father Jeff Jorgensen, her son Jaxx Tolbert, her two sisters Stacy [Doug] Thatcher and Christine [Caleb] Sitterud, her nephews Kyson Sayre and John Sitterud, her nieces Kaybre, Hallie and Makiah Sitterud, Her aunt and uncle Mary and Don Jensen, grandpa John Cliffard Person. Along with many other loving family members.
Jennifer is preceded by her grandmother Virgina Marie Person and her uncle Michael Wayne Person and her great uncles, Dan and Carl Person.
A viewing will be held at Fausett Mortuary Friday, September 17th, 2021 from 5-7 pm and Saturday, September 18th, 2021 at 11 am. The funeral services will be directly after the viewing at 12 pm Saturday. Services will be held at Fausett Mortuary at 680 East 100 South in Price, Utah.
Services are in the care of Fausett Mortuary. Family and friends may share memories of Jennifer and sign the online guestbook at www.fausettmortuary.com