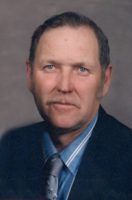 Courtney Starr Guymon passed away peacefully in his sleep on October 12, 2021.  He was born November 4, 1944 to Starr Hal Guymon and Ina Madge Johnson. He married his high school sweetheart, Vee Brasher, on July 20, 1963. They were sealed for time and all eternity in the Manti, Utah Temple on October 8, 1966.
They are the proud parents of six children, Conrad (Michelle) Guymon, Chris (Dana) Guymon, Celena (Chip) Howard, Cari Guymon, Charlene (Ryan) Jensen, and Craig Guymon. They have been blessed with 16 grandchildren and one great-granddaughter who fondly call him Papa and Grandpa.
He was born and raised in Huntington and was in the first graduating class of Emery High. He was active in sports and drama. He worked at Jack's Motor Service through high school.  He attended Carbon College and then he pursued his talent as a mechanic by attending Salt Lake City Community College.  He started driving truck for Dunkley Trucking, and if you were to ask him, he would tell you this was his favorite job. He loved driving at night on the open road. He was a diesel mechanic for Savage Brothers and Emery County School District. He made many trips to Georgia to bring new busses back to the school district. He liked to drive, and driving was the entire reason for the trip.  Any pictures were taken out of the front window of the bus going 60 miles an hour, and don't even plan on stopping to eat.
He loved cows, horses, and ranching. He could lean on the fence post and make the grass grow. He was proud of the land he owned. He considered his farm one of his great achievements. He took great pride in always doing the best job he could in every aspect of his ranch.
He enjoyed serving the Emery County Farm Bureau. He serves as president, vice president or a board member for over 50 years.
He was an excellent mechanic, a hard-working farmer and ornery as hell. He loved long drives, riding for cows on Gentry Mountain, fishing, being out in nature, and his grandchildren. He loved to sing or whistle the hymns.
He took his family to church every Sunday because he wanted them to be raised right. He served as financial clerk for over 12 years and taught Sunday School and Primary with Vee. The highlight of his last years on the earth was being able to work in the Manti temple. It was extremely hard on him to be released when they closed the temple. He was assistant coordinator at the time of its closing.
He is survived by his loving wife, children and their spouses, grandchildren and great-granddaughter; sister, Kay (David) Phillips; brother, Vaughn Guymon; and sisters-in-law, Marie Johnson and Gayla Guymon.
He was preceded in death by his parents; and his two brothers, Larry and LaMar Guymon.
Funeral service, Friday, October 15, 2021, 11:00 a.m., Huntington Stake Center. The family will receive friends at the church Thursday evening from 6-8:00 p.m. and one hour prior to the service on Friday. Interment, Huntington City Cemetery. Arrangements entrusted to Mitchell Funeral Home of Price and Huntington where friends are always welcome daily and may share memories of Courtney online at www.mitchellfuneralhome.net.