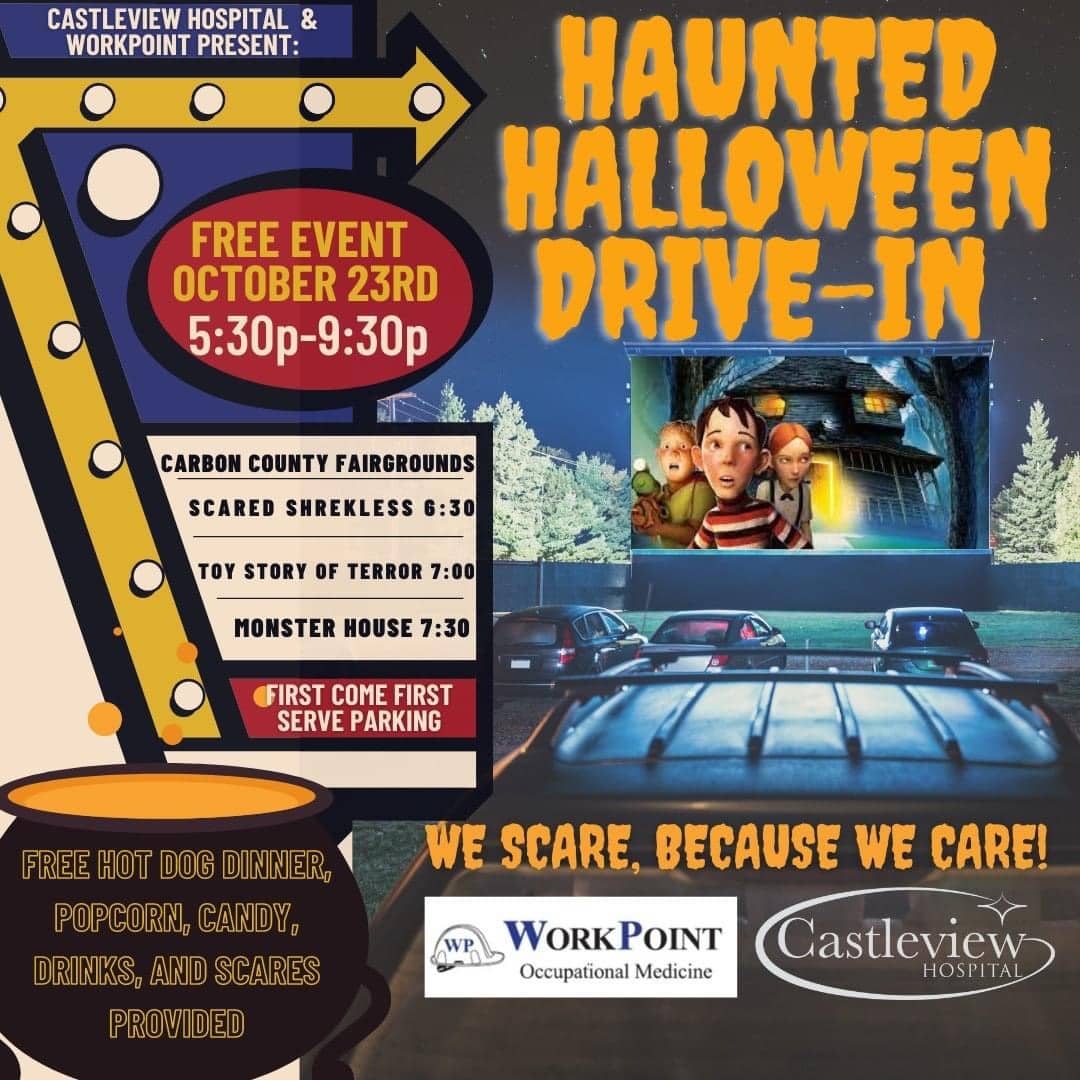 Castleview Hospital, along with WorkPoint Occupational Medicine are both excited to be hosting a Haunted Halloween Drive-In on Saturday, October 23 at 6:30 pm at the Carbon County Fairgrounds. WorkPoint Manager, Jamie Fox stopped by Castle Country Radio to share all the details with listeners.
Parking will begin at 5:30 pm and this event is first come first serve parking. "We can only accommodate so many, unfortunately, I wish we could serve everybody but we can't. But there's also a reason because there is going to be specific rows. Each row is going to be attended to by many community partners that are helping us with this. You show up, that's all you need to do, we're going to take care of you from there. We're going to bring you your food, bring you your popcorn, your drinks and treats for every kid," explained Fox. There will be a free hot dog dinner, popcorn, candy and drinks available for participants to enjoy.
Guests will be able to watch three movies during the evening's event. "It's a nice family fun night. We're going to start off with Scared Shrekless, which is a short, little, cute movie, so we can get everything into place. Then we're going to move on to Toy Story of Terror. We're going to take a small, little break, maybe do a little bit of a monster mash stretch or something you know to get out of your cars, get ready for our main event which is Monster House," stated Fox. The movies will begin at 6:30 pm, with the main movie set to begin at 7:30 pm.
Fox explains the services that WorkPoint offers, "WorkPoint is the occupational medicine service line of the hospital.  We work with all employers in town to help their employees needs. You know pre-employment exams, drug-screening programs, after getting hurt, some worker's comp, different things like that. We also do some specialized testing with hearing and sight, pulmonary function. But if we deal with an employer, we can pretty much provide whatever kind of testing or needs that they have for their employees." WorkPoint is located at 317 East 100 North in Price and they can be reached at (435) 637-1697.