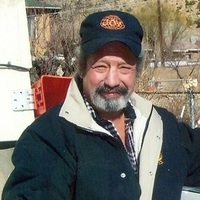 Our loving brother, uncle and longtime friend, Michael Joe Martinez, 67, passed away November 19, 2021 from complications of a stroke.
He was born May 21, 1954 in Price, Utah to Joe J. and Andrea Martinez.  Married Pam Swink in Helper; later divorced.
Michael was a longtime resident of Carbon County who worked several years in the coal mines, railroad and as a groundskeeper for the College of Eastern Utah.  He had many passions in life, however, his favorites were fishing, riding motorcycles, playing the guitar and drums, staying up late watching old movies and Gunsmoke.  Mike was the kind of person that tried hard to make everyone happy.  If he knew you liked certain foods, then he was constantly buying them for you.  His nieces loved Hot Mama's so he bought them the biggest bottle he could find.  Pine nuts were seasonal, so he would buy 40 bags for JoAnn and his mom.  He almost went broke buying them pine nuts, but he always made sure they had plenty.
Mike hated when someone told him to have a good day, and if you did then you were in big trouble.  He said people sounded like parrots, saying have a good day over and over again.  In his younger years, he would spend a lot of time with his sister Esther and his cousin Juanita.  They were his partners in crime and they were always getting in trouble together.  Speaking of trouble, Mike enjoyed his friends at the Regis and he loved to B.S. with his buddies and partake in a beverage or two with them.  Mike will be truly missed by all who crossed his path.  Rest in peace Michael, we love and miss you.
Mike is survived by his sisters, JoAnn (Rudy) Garcia, Price, Esther (Charlie) Sandoval, Price, DeeAnn Martinez, Falls Church, VA; many loving nieces, nephews, cousins and a community of friends.
Preceded in death by his parents; ex-wife, Pam; nieces and nephew, Misty Trujillo Lindsey, Anna Chavez, Danielle Chavez, Harmony Trujillo and Sage Lindsey, Larry Chavez.
Funeral Mass, Saturday, November 27, 2021, 10:00 a.m., St. Anthony Catholic Church.  Vigil service, Friday evening 7:00 p.m. at the church in Helper.  Family will receive friends at the church Friday and Saturday one hour prior to service.  Committal service, Mt. View Cemetery, Helper.  Arrangements entrusted to Mitchell Funeral Home where friends are always welcome daily and may share memories online at www.mitchellfuneralhome.net.