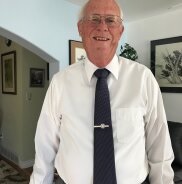 Robert Harold Gerber, 79, died November 22, 2021, with loved ones by his side, at his home in Castle Dale Utah.
A memorial service will be held Friday November 26, at 12:00 pm with a viewing two hours prior in the Church of Jesus Christ of Latter-Day Saints chapel located on 165 W 800 N in Castle Dale.
He was born on February 13, 1942, in Long Beach, California to Adele and Harold Gerber.
He was an active member of the Church of Jesus Christ of Latter-Day Saints and served in Utica New York and Utah Provo proselyting missions with his wife Sanrda Gerber.
He grew up in southern California, started a family then moved them to Utah. He started work as a computer operator, advancing to programming, then management, and eventually became the VP of computing for a health insurance company. He completed his career working for DMBA in Salt Lake City.  After retirement, he spent his time hiking, camping, visiting family, learning new programming languages, serving missions and callings for the church. Additional hobbies include solving challenging problems and HAM radio operation. His greatest passion in life truly centers around his love for the Savior Jesus Christ. To the end of his life, he fervently studied the scriptures, faithfully served in various church callings, researched and taught family history, then completed the ordinances for family and others in temples. He was ordained a high priest early in his life and used his priesthood to bless the lives of many people. As a husband, father, brother, and friend to many, he will be sorely missed.
A curious testament to his precision in life is demonstrated by the date and time of his passing, 11-22 at 3:30 pm.
Robert is survived by his wife Sandra Lee Gerber (DeMott), brothers Ronald and Roy, ex-wife Gayle Gayler the mother of his children; and sons and spouses Greg (Nancy), Gary (Sandra), Glen (Jody), David, Daryl, Robbie, and daughters and spouses Deborah Bannon (Scott), Rebecca Jones (Casey), 11 stepchildren, 33 grandchildren and 18 great grandchildren and 2 great grandchildren on the way.
He was preceded in death by his former wife Kathrine Gerber (Erdman), mother; Adele Frances (Conant) French, father; Harold Ulrich Gerber and stepfather; Charles Henry French.
Services are in the care of Fausett Mortuary. Family and friends may share memories and sign the online guest book at www.fausettmortuary.com