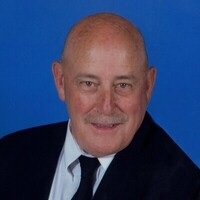 Pace Hansen, 78, passed away January 11, 2022 with his dedicated wife and friends by his side.
Garr Pace Hansen was born November 29, 1943 in Richfield, Utah. The son of Garr A. and Phoebe Hansen. He has one sister, Jula Anne Larsen.
When Pace was eight years old, his family moved to Price and his dad bought the Coca Cola Bottling Company.  Pace started working for his dad when he was just 13 years old sorting glass bottles.  This started a life-long love for Pace; working many different jobs within Coca Cola throughout the years.  After the passing of his father in 1975, he became the owner and operator of Price Coca Cola.  Pace was known as Mr. Coca Cola. Swire Coca Cola purchased the business in 1983 and Pace was hired as the General Manager until he retired in 2005; ending his 48 year career.
Pace excelled in school, he was on the basketball team and even the Student Body President his Senior year at Carbon High School.  Pace loved his country and even served as a member of the National Guard. Pace dedicated his time as Chair for the Carbon County Recreation Transportation Special Service District.  Pace was an integral part of building Carbon County into what it is today.
In 2004, Pace married his sweetheart Tonda Hampton and helped raise her two young sons Jesse and Joe Jensen. Pace was a people person, he loved people and visiting with friends everywhere he went.  He spent every holiday throughout his lifetime with his Larsen family.  He even made a good Easter Bunny and Santa at family parties.  Pace loved the outdoors and spending time at his cabin in Scofield, fishing, hunting, snowmobiling and herding sheep.  Pace was a father figure and mentor to many individuals in the area, sharing his wisdom and the warmth of his personality with them.
Pace is survived by his wife, Tonda; two step-sons, Jesse (Cassandra) Jensen and Joe Jensen; grandson, Aiden Jensen; sister, Ann Larson; nephews and nieces, David, Kerry (Lori Ann), Lane, Kim (Joe) and Launa (Scott), and many dear friends.
Pace was preceded in death by parents, Garr and Phoebe Hansen; wife, Sherrie Hansen; brother- in-law, Kimble Larsen.
Pace requested no funeral, but to have a graveside service, Saturday, February 5, 2022, 11:00 a.m., at the Price City Cemetery. A Celebration of Life will be held later that afternoon at 1:00 p.m. at the Carbon County Event Center. Arrangements entrusted to Mitchell Funeral Home where friends are welcome daily and may share memories of Pace online at www.mitchellfuneralhome.net