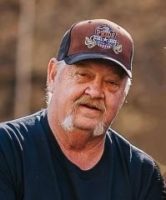 Daniel "Danny" Leffler, 61, of Huntington, Utah, passed away on June 21, 2022 after a hard battle with lung cancer. Danny was the devoted husband of Leslie Leffler, the loving father of Julie Kister, Cory (Tyson Nielsen), Baby Danny, Maggie (Ryan Hotchkiss), Trista (Nathan Hyer), and the wonderful papa to Elaine and Junior Hotchkiss. Danny is preceded in death by his mom and dad (Ruby and Dale Leffler), his beloved son (Daniel Bud Leffler), and his older brother (Howard Leffler), and his brother in-law (Joe McNeel), and many nieces and nephews. He will be deeply missed by all who knew him.
Danny was born in Downey, Idaho, but spent the majority of his life in Emery County. He met his wife, Leslie, in 1976. Shortly after they met, they knew they were meant to be life-long partners and married on October 15, 1977. Then in 1978, they brought their first baby girl into the world, and continued to grow their family after that.
As a truck driver of 30 years, Danny worked hard, and met many of his friends. He traveled the country for work with his dog, Poe, as his co-pilot.
Danny is survived by his intimate family, as well as his friends and siblings Chris (Ervin Cox), John (Sherry Leffler), Kathy McNeel, Randy (Stacie Leffler).
The funeral services will be held at the Huntington Stake Center on Saturday, the 25 th of June, 2022 starting at 1 p.m. The viewing will start at 11:00 a.m. on Saturday and end at 12:30 p.m. Interment will be in the Huntington City Cemetery. Services are in the care of Fausett Mortuary.
Friends and family may share memories of Danny at www.fausettmortuary.com.