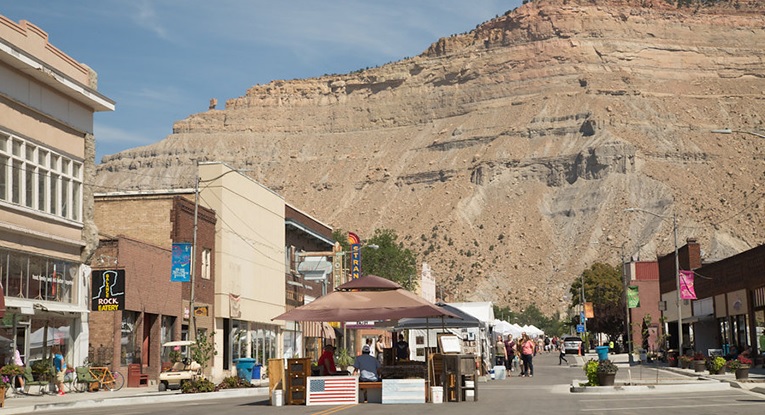 The Helper Arts, Music & Film Festival will be taking place on August 19 through August 21 in Helper. A big part of the festival is the musical acts that come to the area to entertain folks throughout the event. Castle Country Radio was able to sit down with Music Coordinator, Kenny Driggs to discuss all the details.
On Thursday, August 18 at 8:00 pm there will be an opportunity to start enjoying some performances on the stage at the Rio Theatre. "We have a trio out of Portland area called Rosetan, that I'm obsessed with, these guys are so much fun. Real serious music makers and we have some local talent we're going to showcase right after that. Brydgs who is probably one of the best vocalists I've met, she's going to be playing with Devin Knight at the Rio. So you're going to have a full band backing them and it should be a great little exhibition of musical tastes," explained Driggs. The gathering will begin at 6:00 pm with the El Jazz Trio, who will be performing outside in front of the Rio theatre.
On Friday, August 19 things will kick off at the Rio at 2:00 pm with Brian Stucki and then at 4:00 pm with Walter Ergo: A Rock Opera. "Friday, we got a lot of stuff going on, the coolest thing is we've got 19 musical acts spread across three days. We have 10 musicians that are locally, they are Helper or Price residents. We are featuring a wide variety of styles and genres. Friday we're going to have a couple of things in the Rio during the day – both Friday and Saturday you can catch a performance at 2:00 pm and at 4:00 pm, we're going to call those the beat the heat moments," stated Driggs. The Main Street Park will begin with bands at 6:00 pm with Cardinal Bloom, at 7:20 pm Scott Lippitt, 7:40 pm will be 3Hattrio and closing out with Jake & The Heist at 9:30 pm.
On Saturday, August 20 you can beat the heat again with performances inside the Rio at 2:00 pm with Walter Ergo: A Rock Opera and 4:00 pm with Brian Stucki. "Then things will kick-up again at the Main Stage over at the park at 6:00 pm with Lee Rafugee. Lee Rafugee is an amazing, serious, rock and roll act. I mean these kids they have to be mid-20s and I think they were born in 1970 because the stuff they're making is crazy good, and timeless like Zeppelin vibes," said Driggs. They will be followed by Brother Chunky at 7:20 pm, Caydin & Summer Bell at 7:40 pm and closing out the night will be Grizzly Goat at 9:30 pm.
There will be two bands featured on Sunday to close out the festival. Taking the Main Street Stage at 12:00 pm will be Darling & Debonair and the final performance at 1:00 pm with Backyard Revival.
To see the entire musical schedule, visit the Helper Arts, Music & Film Festival Facebook page.