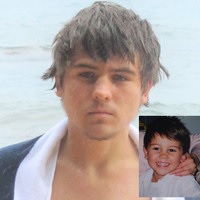 Christian Aydri Nelson was born February 14, 2000 in Portland Oregon, and died on July 26, 2022.
Aydri loved his dad, Steve; mom, Amy; brother, Skylan; and sisters, Linnea and Isabelle. Family and nature-focused trips united them as they backpacked in the mountain forests and deserts of the Intermountain West, explored national parks, and visited the tropical wonders of Hawaii and Costa Rica.
He loved observing birds of the marsh and the powerful birds of the sky. He learned and often shared fascinating details about the wingspans, feeding habits, territory, and migration of his current favorites: condors, vultures, and eagles. In addition, Aydri often astounded others with his extensive knowledge of varied topics that he took interest in.
Aydri was a musician inside and out. He spent many hours listening to great organists and symphonic works, worked with his mother and grandmothers to learn keyboard skills, played percussion and bass guitar, and attended many live concerts with his family. He found profound peace immersing in the powerful renditions of organ classics. He avidly learned about the great cathedrals of the world and had plans to tour European cathedrals and hear their organs.
He loved giving concerts and sharing his own music of the soul. He felt deep devotion to God and universal truth, and often shared God's praises with extended family and friends.
He loved the power and focus of riding his motorcycle—first with his dad and grandpa, and then on increasingly longer solo trips. He flew with the eagles when he was on his bike. His Go-Pro camera supported his creativity as he posted travel videos on YouTube. With Skylan, Aydri, Linnea and Isabelle, the "Nelson Comedy Team" had many a laugh as they wrote, improvised, and filmed movies that delighted friends and family.
In the past year, Aydri worked for Price City and USU Eastern. His work ethic was strong and dependable. When challenges beset him, his supervisors and coworkers gave him space and encouragement. The family expresses deep appreciation to those who supported him in the work field, and to 'Innovative Harbor' and 'Rise' for their mentorship services to Aydri and others in the youth and adult autistic community. In addition, the family extends gratitude to Aydri's friends in the community and the churches he visited, to caring medical personnel, and to teachers and administrators for their positive influence.
Aydri is survived by his immediate family of Price, Utah; grandparents, Eric and Jan Nelson of Cottonwood Heights, Utah, Richard and Paula Butler Watkins of Mendon, Utah; and many aunts, uncles, and cousins who love and honor him profoundly.
Arrangements entrusted to Mitchell Funeral Home of Price where friends are always welcome daily and may share memories of Aydri online at www.mitchellfuneralhome.net.