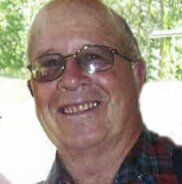 William Blaine Rowley passed away in Price, Utah on Sunday, September 25, 2022, at the age of 86. He was born July 20, 1936, in Orangeville, UT to parents Samuel Herbert and Margaret Jean (Huntington) Rowley.
Blaine married Ramona Oman in the Manti Temple on March 8, 1957, and together they raised two amazing children before her passing in 1996. He was then briefly married to Zora Peacock, later divorced. In 2001 he met and married his sweetheart, Raline Mae (Peterson, Olsen) Rowley in the Manti Temple on November 2, 2001.
Blaine belonged to the Church of Jesus Christ of Latter-Day Saints. He was raised in the Orangeville and Huntington area where he liked hunting, fishing, anything outdoors and all animals, big or small. Blaine loved gardening, he had a green thumb, and he grew anything and everything he could. After graduating from Emery high school, he joined the National Guard for 2 years, and then joined the Marines for 3 years. To support his family, Blaine worked in hard rock mining and then later graduated from Salt Lake Community College in diesel mechanics. He worked many jobs in his life, but his favorite was as custodian and grounds keeper for the
Church of Jesus Christ of Latter-Day Saints in Emery County.
Blaine is survived by his wife Raline Rowley, his children – daughter Sherill Edgell and son Tracy (Edna) Rowley, stepchildren Jennifer (Troy) Morrell, Brian (Cherie) Olsen, Rebecca (Keith) Mason, Amelia Mendoza and Christopher (Amanda) Olsen, brother Richard (Lorraine) Rowley, sisters Shirley (Chuck) Sickels, Janet Hurst and Karen Revas, along with 29 grandchildren, 27 great grandchildren, and 1 great-great grandchild.
He is preceded in death by his first wife Ramona Rowley, son-in-law Roy Edgell, sister and brother–in-law Pauline and Bob Tilton, and brothers-in-law Bob Hurst and Bill Revas.
Funeral Services will be on Saturday October 8, 2022, at Fausett Mortuary in Castle Dale, viewing from 11 AM-12PM, and funeral service immediately following. Interment will be at Castle Dale City Cemetery, with a luncheon following at Castle Dale Stake Center of the Church of Jesus Christ of Latter-Day Saints on Center and Main Street. Services are in the care of Fausett Mortuary.