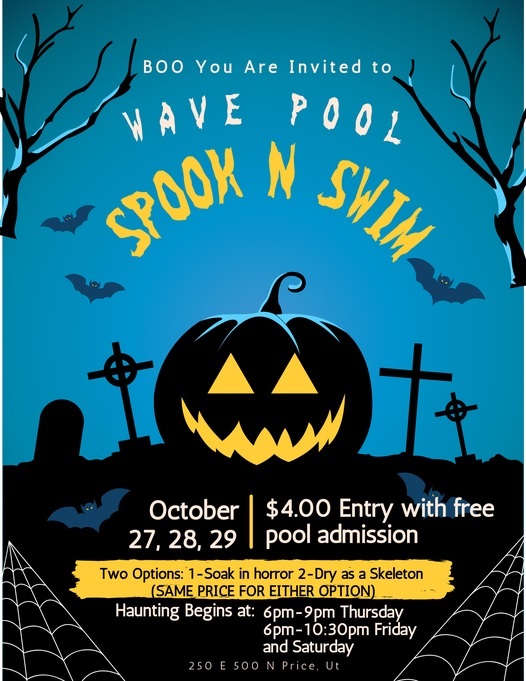 The Desert Wave Pool is excited to be hosting their annual Spook and Swim event on Oct. 27 through Oct. 29 from 6:00 pm to 9:00 pm. Aquatics Director, Tamara Gray was eager to share all the event details with Castle Country Radio listeners.
"So we will start it on Oct. 27, will be our first night, we're only going to do it three nights so you got to try and get there early, it's the 27th, 28th, and 29th. Our original, we have a dry option, as well as a soak in horror option. So if you don't want to get wet or go for a swim, then you can come in it's $4.00 to just go through the spook alley. If you're coming in to swim and you want to do the spook alley its just the cost of admission so $4.00 as well," stated Gray.  The great thing about the spook alley is it differs every year so it's never the same.
Officials at the pool are gearing up for another session of swimming lessons. "We have another session that starts on Monday, Oct. 10. Like I said they're four weeks now, twice a week, so you still get eight lessons. We run them through till the last session will be Nov. 7 through Dec. 1. Then we usually take Dec. off and we'll start up again in Jan. But it's a good time, I mean the classes are small, so you get a lot of personal attention, one-on-one work a lot. So we have our fall sessions that are going on, we are just finishing up the first one, and the second one will start on Monday," said Gray. The cost for the swimming lessons is $35.00 per session and lessons are half-hour long.
The Carbon School District will be having its Fall Break on Oct. 13 and Oct. 14 which means kids will be out of school. "For Fall Break we will be open at 12:00 pm so we'll be open from noon till 8:00 pm. So the kids are out of school, bring them on by, like I said the dome's up, the water is heated, it's warm. So we will be open Thursday, Friday and Saturday from noon till 8:00 pm," explained Gray.
To keep informed on all the fun activities taking place at the Desert Wave Pool visit their Facebook page.