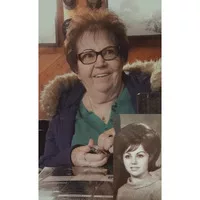 Our loving mother, grandmother, aunt and friend, Bette Jo Saccomanno, age 77, passed away peacefully on September 30, 2023, surrounded by her loving family.
She was born in Price, Utah on January 4, 1946, to Joseph Saccomanno and Hazel Milano and raised by Red Snyder.
She attended schools in Carbon County from elementary to high school, alongside her brother and cousins.  She was a proud member of the class of 1963.  Bette Jo was very proud of her Italian Heritage and was a member of the Stella d'America Lodge #77. She built a beautiful life devoted to her three daughters, Cindi Rae (Clay Iorg), Danette Marie, Tona Lisa (Robert Hill); her 12 grandchildren, Tiffany Rae, Mark Richard, Trinity Marie, Danielle Dawn (Geovani), Landon Kaleb, Katie Rose, Athena Marry, Chantell Lace (Mike), Dalton James, Valencia Marie, Nicoletta Jade and Dimitri Josepi, and her 12 great-grandchildren; Markie, Journey, Taylor, Lola, Geovani, Thomas, Talieya, Jada, JJ, Karysma, Braden and Shaylynn and her fur baby Gizmo.
Mom constantly reminded us that, "Without her, none of us would be here."
Bette Jo lived life her way in many different places including many years in Salt Lake City, Utah and Yuma, Arizona, where she followed her brother Frank (Winnie and Jeri) Walker, living the fullest years of her life, but her heart always stayed in Carbon County and a special thanks to Jeri her sweet niece for being here till the end. She returned home to Helper, Utah in 2017, where she lived out her happiest and final years.  She was known for her love of Betty Boop, Teddy Bears and Pinochle with her friends. Bette was a social butterfly who loved her friends like family, especially Louise Hamilton, Lena Marquez, Lillian Martinez, Cecelia Leggroan and her very best sister friend Winnie Walker. Bette Jo chose to live out her final months at the Heirloom Inn where the entire staff provided her with the most amazing care that anyone could ask for. Their warmth and attention to making her comfortable was appreciated by not only Bette Jo, but her entire family. She wanted to give a special thank you to Robin Frisbie for quickly becoming one of her closest companions. We would also like to thank Angela Lummus with Rocky Mountain Hospice for all she did.
Bette Jo is preceded in death and welcomed home by her parents, Joseph (Thelma) Saccomanno and Hazel (Red) Snyder; special granddaughter, Tiffany Rae Kerby; brother, Frank Ray Walker; daughter, Danette Trujillo Nevins and cousin, Carol Barker.
In lieu of flowers, the family would love you to share your fondest memories of Bette on Mitchell Funeral Home's website at www.mitchellfuneralhome.net.
Graveside service, Friday, October 6, 2023, 12:30 p.m. at Mt. View Cemetery, Helper, Utah. The family will gather at Mitchell Funeral Home from 11:00 a.m.– 12:00 p.m. prior to the graveside services.  Arrangements entrusted to Mitchell Funeral Home of Price and Huntington where friends are always welcome daily.