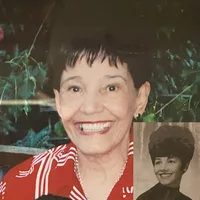 On Friday, September 29, 2023 a little past midnight, our family's beloved mother, grandmother and great-grandmother, Sylivia Liapis Platis, passed away peacefully in her sleep at 98 years old.
She was born in Hiawatha, Utah on August 19, 1925 To Paul Harry and Foto Lambrinos Liapis.  Her sister Dorothy gave her the nickname Sissy when they were young because Dorothy had a hard time pronouncing Sylvia, and the nickname fit so well it stuck with her throughout the years.  Sissy married the love of her life, John Platis, on November 28, 1948.  John proposed to Sylvia after taking her on a flight that he was piloting and he would not land until she agreed.  The proposal led to an incredible 65-year marriage.
John and Sylvia built a life in Price, Utah where they owned and operated the Century Cafe on Price's Main Street for 33 years. After retirement, John and Sylvia spent many happy years together and enjoyed time at their cabin in Scofield with their family.  They were both very involved in the community and they worked hard to help fund events for the Greek Orthodox Church, as well as the College of Eastern Utah.
Sissy's unequivocal characteristics of strength, feist, fun, generosity, warmth, and love, persisted with her until the very end.  These qualities left a profound imprint on our family, as well as anyone who was able to be in her presence.  Sissy brought life into any gathering or party by asserting an "Opa," which she did with vigor and joy!  Please don't be fooled by the number, because even at 98 years old, she was not old, and if you don't believe us, just ask her.  Sissy would let you know her "age" by singing a song, showing her amazing physique, or by just simply putting the situation in its proper place.  She had the ability to do this in an endearing way that left you laughing, as well as believing in the power of staying young at heart.
Sissy always sparkled and dressed to dazzle! She loved to sing, to jitterbug with her husband John, and to cook for her family and/or anyone else who wanted to taste the best meal ever!  Also, she did not hesitate to show you the most beautiful turkey ever cooked on every Thanksgiving morning with a heart of pride and a ready spoon to allow you to test taste her undeniable Greek stuffing.  In our family, she instilled the values of spending time together, creating meals and breaking bread together, competing at a hand of Rummy, saying I love you at every chance, being yourself, and putting in hard work to create success.  We love her, we treasure our memories made together, and we will miss her dearly!
Sylvia is survived by children, Connie Saccomanno and Bill, and Gina Ferguson and Ron; grandchildren, Hilary and Felix MacDonogh, Johnny and April Saccomanno, Anthony Ferguson, Natalie Ferguson; and six great-grandchildren, Bennett, Stella, Daphne, Raphael, Georgia, and Magnus.
She is preceded in death by her parents; husband, John Platis; brothers, Harry Liapis, Pete Liapis, George Liapis; sisters, Dorothy Kay, Helen Maxfield.
Funeral service, Wednesday, October 4, 2023, 11:00 a.m., Assumption Greek Orthodox Church (61 South 200 East, Price, UT). The Trisagion will take place Tuesday, October 3, 2023, 6:30 p.m., at Mitchell Funeral Home (233 East Main Street, Price, UT). The family will receive friends beginning at 5:30 p.m. at Mitchell's prior to the Trisagion and one hour prior to the funeral service on Wednesday. Interment, Price City Cemetery. Arrangements entrusted to Mitchell Funeral Home of Price and Huntington where friends are always welcome daily and may share memories of Sissy online at www.mitchellfuneralhome.net.