The Greatest Comeback Tour Summer Giveaway Party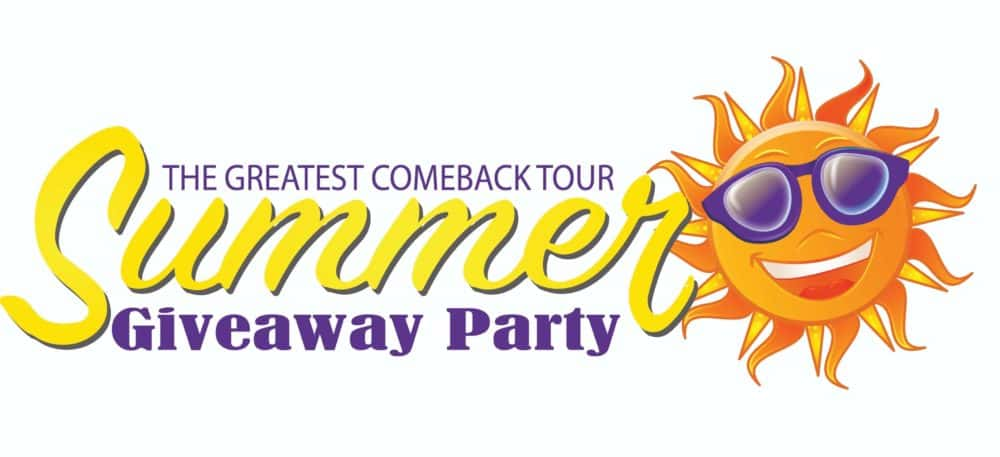 This summer The Peak 95.3 and Kickin' Country 98.3 will be bringing The Greatest Comeback Tour Summer Giveaway Party to all their loyal listeners!
This Summer Giveaway Party is open to anyone over the age of 18 years old who would like an opportunity to win one of the grand prizes, a CF Moto 500 from Cycle Savers or a Traeger Grill from Jones Ace Hardware. Keep in mind that the winner is responsible for all applicable taxes and fees associated with the grand prizes.
How do you enter?
It's easy, all you have to do is enter at any live broadcast locations that take place throughout the summer for a chance to enter your name into the drawing. You can enter at as many live broadcasts as you wish and be entered in the final drawing as many times as you are qualified.
Below is list of qualifiers from each location:
06/18/2020 – Castle Country Hobby & Pawn
Clifford Albrech
Lacey Jewkes
James Jewkes
Cynthia Brown
Crystal Laxton
06/24/2020 – Cycle Savers
Amy Dinkelman
Colin Winchester
Bret Nelson
Louie Starzel
Karen Valentine
06/30/2020 – Price Pediatric Dental
Rusty Woodruff
Jashelle Adams
Miranda Simmons
Jody Young
Dave Jackson
07/08/2020 – Southeast Paint & Design
Jordan Adler
Sierra Jensen
Brent Innes
Michelle Slaughter
Ray Gilbert
07/15/2020 – Smart Health Pharmacy
Darce Guymon
Austin White
Jeanice Tucker
Randy O'Neil
Shaylynn Stilson
07/20/2020 – Cycle Savers
Stacy Abbott
Amy Dinkleman
Michelle Slaughter
Jeremiah Ison
Jody Young
07/30/2020 – Dave's Auto Detailing
Alayne Carrillo
Rachel Marsing
LeAnn Fazzio
Rachel Johnson
Krisi Pruitt
07/31/2020 – Dawn's Hometown Insurance/Allstate
David Temple
Pam Gurule
Maddie Reynolds
Lorrie Archer
Niki Guzman
08/04/2020 – Bills' Home Furnishings
Jan Burrows
Kyle Hansen
Amy Dinkelman
Maxi Jones
LeAnn Fazzio
08/05/2020 – Southeast Paint & Design
Aubrey Kirkwood
Karla Sepulveda
Dani Shepherd
Lorrie Archer
Emilio Aguayo
08/11/2020 – AJs Custom Body & Paint
Kent Burrows
Luis Martinez
Stacy Abbott
LeAnn Fazzio
Lori Vasquez
08/13/2020 – A Perfect Smile
JB Abbott
Tom Martinez
Justin Fish
Thomas Plumley
Liz Howes
08/18/2020 – Hard Hat Furniture & Appliance
Kent Burrows
LeAnn Fazzio
James Brown
Justin Fish
Brent Chaffin
08/18/2020 – Big Mountain Lodge
Robert Thompson
Jan Burrows
Leona Behling
Katie Duncan
Terry Hodge
08/21/2020 – Clean Tech Cleaning & Restoration
Miranda Simmons
Sharon Stamatakis
Cheryl Vea
Jody Young
Liz Howes
08/27/2020 – A Perfect Smile
Rachel Marsing
Paul Guzman
Keven Mortensen
Jackson Gallup
Sue Christensen
08/27/2020 – Dave's Auto Detailing
Jashelle Adams
Lorrie Archer
Wesley Wright
Chrystal Laxton
Chase D'Ambrosio
09/02/2020 – Southeast Paint & Design
JoAnna Manzanares
Zade Carrillo
Jackie McCourt
Sergei Roper
Monica Dolanwheeler
09/08/2020 – Charlie's Pawn
Harry Herring
Ruben Trejo
John Butkovich
Alicia Sowder
David Richards
09/09/2020 – Bill's Home Furnishings
Clyde Brotherson
Jeff Hunter
Jashelle Adams
Jay Dinkelman
Adam Dolanwheeler
09/11/2020 – Clean Tech Cleaning & Restoration
Jeff Braby
Steven Kerr
Miranda Simmons
Lori Vasquez
Maxi Jones