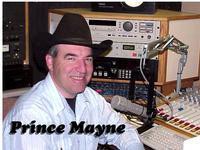 Prince came to Kickin' Country to take the reins of Kick Back Tracks in the Spring of 2013, along with his sidekicks, Fancy & Mariah. Prince enjoys horses, camping, computers, trail riding and the challenge of golf! (When he's not enjoying his true love, entertaining you on the radio with the Country Legends)!
As a native of San Francisco California, Prince started in radio in 1982 after serving his country in the US Navy, then working as a stablehand, horse-groom and as a trail-guide around the Chicago suburbs. He has since done quite of circuit with radio gigs in Rockford IL, Salinas/Monterey CA, Denton/Dallas TX, WCCQ Joliet/Chicago IL, KZ-100 Columbus/Lincoln NE and most recently Westwood One Radio Networks in Denver CO.
Prince hitched up with Fancy, a cute blue roan appaloosa mare back in 1994 and has trained her to ride. Hmm, who's training whom? He also recently found a pretty Chestnut Morgan, "Mariah". After all, Fancy needs a stablemate! (They'll go anywhere for a carrot!). Prince digs the Great Outdoors and spends most of his free time running his boarding stable, playing with his horses or doing chores around the ranch. He loves to BS and is an official member of Manure Movers of America!
CLICK HERE to request a song on Kick Back Tracks