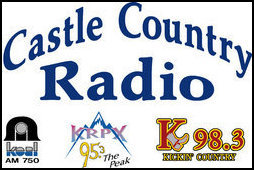 THE HISTORY OF EASTERN UTAH BROADCASTING
EASTERN UTAH BROADCASTING
Eastern Utah Broadcasting Company, licensee of radio stations KOAL AM and KARB FM in Price, Utah is one of the oldest radio station operations under continuous family ownership. The history of it is the history of the people involved in it over the years since it went on the air in October, 1936. KOAL was founded as Radio Station KEUB by its three original owners, Jack Richards, Frank Carman and Sam Weis. It went on the air at the 1450 position on the dial. A couple of years after it began broadcasting Jack Richards bought out Carman and Weis. Frank Carman was a young electronic engineer who hand built the original 100 watt transmitter of KEUB. For the first couple of years he lived in the studio of the station. He subsequently returned to Salt Lake City where he founded and built radio station KUTA, later changed to KLUB 570. Sam Weis was a local businessman who later moved to southern California.
One of the interesting elements of the history of KOAL is the life of Jack Richards. He was born in 1895 and raised in New York City. His family was prominent and his father and grandfather both has seats on the New York Stock Exchange. Jack was very intelligent. He graduated from Yale University with a major in the French language. Following graduation he was commissioned in the U.S. Army as an officer and was sent to France to be an interpreter. Following WWI he returned to New York where he worked in his father's business and enjoyed the roaring 20's to the fullest. He was an excellent golf and tennis player and occasionally played golf with the legend Bobby Jones. He survived the stock market crash of 1929 and continued to work in the brokerage business. In about 1935 when he was approaching 40 he fell in love with his father's 24 year old secretary, Rita Reynolds. Without family approval they were married and Jack was virtually disowned from the family. Because Rita had some lung problems they loaded their belongings into their car and headed for the great American Southwest to seek their fortune.
Jack obtained employment at a radio station in Gallup, New Mexico and there he learned about the broadcasting business. After some time he decided to seek his own radio station and met up with Frank Carman and Sam Weis. They wanted to start a station and have it located midway between two cities so that it could draw business from both towns. They narrowed the choice down to Nyssa/Ontario, Oregon and Price/Helper, Utah. They settled on the Price/Helper pair and constructed the station approximately half way between the two towns in the building the station presently occupies. After obtaining full ownership of the station Jack and Rita constructed an apartment adjacent to the studios and became an honest-to-goodness mom and pop operation. Jack sold the advertising and ran the business. Rita took care of the bookkeeping and much of the copy writing. They operated this way until approximately 1965.
Tom Anderson, started working for Jack Richards as a teenager. Tom was raised in Price along with a brother and a sister after their father left them. Tom's mother died when he was 17 years of age, leaving him with no place to live and a year of high school left to complete. He moved in with his newly wed sister and brother-in-law to complete high school. Shortly after the beginning of the school year his speech class teacher, Neil Warren told him about a part time job opening at the radio station and encouraged him to apply. Tom got the job and during the course of the year he and the childless Richards became acquainted and they were impressed with his desire to leave to attend the University of Utah. Jack called an acquaintance, Slim Wycoff, who owned a trucking company in Salt Lake and arranged for a job for Tom. Following graduation from the University of Utah with a BS in Marketing, Tom returned to Price to serve as salesman/manager for the Richards. At that time Jack was 70 years old.
Rita Richards died in 1971 and Jack continued in the station but with less involvement than before. In 1980 when Jack was 85 and Tom was 40, Jack legally adopted Tom. Jack died in 1986 at the age of 90.
Tom continued to run the stations with the beliefs that Jack Richards instilled in him that the stations were to be an extension to the community. Over the years Tom used the the airwaves that are licensed to Eastern Utah Broadcasting to raise hundreds of thousands of dollars for different civic and charitable organizations in Carbon and Emery Counties. Some of the notable charities that have benefitted over the years are the Price Kiwanis Club who takes control of the station the first Sunday every April for their annual Radio Auction. The very first Kiwanis Radio Auction was held in 1967 and raised a few hundred dollars. Today that auction raises over $30,000.00 in one day and all the money is used to benefit children in Carbon and Emery Counties. Other charitable events Tom was a part of include the Spencers Wished Radiothon, Pie Auction and Scoops for Kids.
Tom was also a long time member of the Utah Broadcasters Association and sat on their board of directors for many years. Tom was inducted into the Utah Broadcasters Hall of Fame in 2011. A video of his Hall of Fame induction can be seen here. Tom passed away in 2012 after a 3 1/2 year battle with cancer.
In May of 2004, Tom's son Paul left his career in Salt Lake City, Utah and moved his family back to Price to start working with his dad at Eastern Utah Broadcasting.
KOAL
In 1945 KEUB Changed its call letters to KOAL and increased its power to 250 watts and at about the same time switched its operating frequency from 1450 to 1230.
From 1937 to approximately 1952 radio was a medium of programs. Variety programs, news programs, serials and soap operas filled the airways. There was music, too but generally it was music programs. A half hour of classical, a half hour of country, a half hour of popular music, a request hour and there were even programs featuring live local talent from the studio. Until the 1980's KOAL maintained a grand piano in its studio.
The Mine Report
Local listeners who are old enough will remember the Mine Report. This was broadcast twice each day precisely at 6:30 a.m. and 5:30 p.m. It was the official way the coal mines notified the mostly union coal miners whether they would work the next day and would give them specific instructions about work. If a miner missed the report and didn't work when he should have it was his fault for not hearing the report. Needless to say the time immediately before the Mine Report was truly prime advertising time on KOAL. In the 1950's the mine report went: "Mines working tomorrow are Castle Gate, Columbia, The Geneva Mine at Horse Canyon, Hiawatha, Kenilworth , Latuda, Spring Canyon and Sunnyside"
The Request Hour
Listeners who are old enough to remember will remember the request hour broadcast each day at 5:00 p.m. (immediately before the Mine Report) Listeners would be required to mail their requests and most of them were dedications of a song to someone else. (Often they were joke dedications, but they were played anyway). The Request hour was another prime advertising time on the radio. Pictured here are some of the national figures who broadcast during the 30's 40's and 50's.
Bill Stern, Sports Dizzy Dean, Sports Fulton Lewis, Jr., News
Radio during the 30's, 40's and part of the 50's was the prime communication and advertising medium. When television became prominent in the 50's it was forecast that radio was dead. Radio didn't know that and adapted to become a music delivery medium and became stronger than ever. By the late 1950's KOAL was broadcasting records from its own turntables full time. It had disc jockeys and news people and again became important to the public. Some of the figures who were on the air at KOAL during this time included Carl Wolfrom, Vince Garavaglia, Bob Mullins (who won a Pulitzer Prize for the Deseret News while working at KOAL), Dick Van Cleave, Dick Fenemore, Stu Fausett, Norm Smith, Rick Sherman and many more. In 1965 KOAL received permission from the Federal Communications Commission to increase its power from 250 watts to 1,000 watts giving better coverage for Emery County. Radio remained primarily a music delivery medium until the mid 1980's when a technological development changed the industry. That development was direct satellite communications. Prior to satellite delivery, national network programming had to use land based telephone lines. A different telephone line for each network offering programming was cost prohibitive and so 'talk/news' radio was never developed. With the advent of satellite delivery it was possible to have full time talk/news and sports programming. This developed slowly during the last half of the 80's and became fully mature in the early 90's.
In 1986 KOAL received permission from the Federal Communications Commission to change it's operating frequency from 1230 to 750 and to increase its power to 10,000 watts, making KOAL a truly regional radio station. At night KOAL is required to adopt a directional pattern sending very little power east (toward Atlanta, Georgia), but full power to the north, west and south. At night KOAL can be received throughout Idaho, Nevada, much of California and Arizona. The 750 frequency has very few stations in the western states and so its signal travels freely without interference. We have received listener report from all through the western states.
At the present time KOAL operates an ultra-modern state-of-the-art News/Talk/Sports operation, airing the most popular of the programs available. It takes 3 satellite dishes and 5 satellite receivers for the present line up of programming.
Kickin' Country KARB 98.3 FM
In 1976 it was decided that the market was mature enough to add another radio station. Eastern Utah Broadcasting Company applied for and received permission to construct an FM station to operate at 98.3 with a power of 3,000 watts. Land was purchased on Wood Hill overlooking Price and the present antenna tower was constructed. KARB joined the air on July 4, 1977, the same day a cloudburst washed out the Carbon Country Club golf course. Due to financial restraints, it was decided to put KARB on the air with an automated programming source. The latest computerized equipment was obtained and KARB went on the air with a country music format played from reel-to-reel tapes. In 1985 KARB and KOAL switched music formats and KARB became a contemporary music station and KOAL took over the country format. The stations continued with this programming until early in 1992 when KOAL became full time News/Talk/Sports and the country music format returned to KARB as Kickin' Country!
In 1997 Kickin' Country made another change allowed by new technology. While all but one of the Kickin' Country disc jockeys are located near in Omaha, Nebraska, these jocks are talking about events in the Carbon-Emery area, talking about the weather in the Carbon Emery area and even taking music requests from local listeners. This is made possible by new satellite technology and Kickin' Country is one of a very small number of stations nationwide operating in this manner.
KRPX 95.3 'THE PEAK'
In June, 2006 the newest member of the Castle Country Radio family came on the air. It was decided that this station should air what we call 'Active Adult Contemporary'. The station was an immediate hit in the Carbon-Emery area.
That's the history of the three stations. What's the future? More technological changes are coming that will make the new century even more exciting than the last half of the 1900's. Digital broadcasting is here! AM radio is able to broadcast music with CD quality-in stereo. KOAL AM-750 was Utah's first station to broadcast a digital signal. FM stations will have improved quality and coverage. Both will be able to broadcast additional information along with the music so we can't predict what you'll be hearing and seeing on your radio. The one thing we know for sure is this: the stations operated by the Eastern Utah Broadcasting Company will be at the forefront of any new technology.
Stay with us and find out.
Copyright Eastern Utah Broadcasting 2013