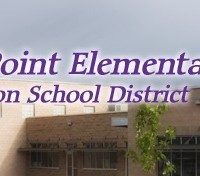 Each week the Carbon School District features one of the schools in the district and it so happens that Bruin Point Elementary in East Carbon has been given the chance to be highlighted this week.
The D.A.R.E. (Drug Abuse Resistance Education) just wrapped up at the school. "Its Chief Leonard that teaches our class and it's the fifth-grade class. They did it last quarter and all the kids really responded well to him and they actually all graduated on February 10," said Ricki Palmer, School Secretary. "I just think having Chief Leonard there, he's kind of an icon in our community and he gives them good advice, they love it, they just love having him there and listening to him. They really enjoyed having him teach too, so that was a good thing for the kids there." The students attend D.A.R.E. classes for about a month before they can graduate with a certificate of completion.
The school has teamed up with the Active Re-Entry's P.A.W.S. (People, & Animals Working to Serve) Program. "Instead of having our students read to the dogs, we actually use them in our school's counseling program. Logan and Baxter help us with our social skills and improve our social skills when we do our groups and also, we will work individually with the students and utilized the PAWS program to help our students become successful," stated Cassie Bailey. Other benefits of having Logan and Baxter in the school is they can teach responsibility, compassion and respect for other living things.
A program called Strengthening Families is being offered for families in East Carbon. Families will learn how to communicate more effectively and learn to listen to one another. "About 60 families signed up through our school to do the Strengthening Families program. What the Strengthening Families program is parenting program for high risk and general population families. It's a twelve-week course that the families will attend each week on Tuesday evenings," said Bailey. The evening sessions are split up into groups of parents and children. Attendees will gain communication and listening skills that they will then practice during the family sessions.
To learn more about what is going on at Bruin Point Elementary visit their Facebook page.