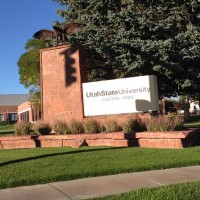 The USU-Eastern GEAR UP (Gaining Early Awareness and Readiness for Undergraduate Programs) program recently went on a college visit to Colorado Mesa University in Grand Junction. The students used the visit to see what programs, degrees and services CMU can offer them to continue their education.
"It was an amazing success, we took seventeen students to Grand Junction to Colorado Mesa University. We toured the campus, ate at their all you can eat buffet and it was just a lot of fun," said Brandon Flores, Director. "So, it really gave them an opportunity to see what else is out there, another school that is not in Utah, and what opportunities and what different programs they could potentially join when they get here."
The CMU campus is only a 2 ½ hour drive away from Price and although it is in another state, students can apply for the Western Undergraduate Exchange scholarship. Students who are residents of Western Interstate Commission for Higher Education states are eligible to request a reduced tuition rate of 150% of resident tuition at participating two- and four-year college programs outside of their home state.
"On March 24 we will be taking students to Weber State University and then on April 17 we will be taking students to Utah State University up in Logan and so both of those will be day trips, we include all the food – from lunch and dinner," said Flores. The GEAR UP program gives students the chance to visit universities that they may not be able to see on their own.
There will be a GEAR UP Senior College Catch Up Day on Friday, February 17 in the Jennifer Leavitt Student Center. Student can bring their parents to work on FAFSA, scholarship application and college admissions application. This is open to any and all colleges that the students may be interested in.
GEAR UP is a federally funded grant program whose goal is to increase college awareness for low-income students and their families and to help students develop the skills and preparation necessary to pursue education after high school. GEAR UP works collaboratively with schools, parents and community organizations to help students build the knowledge, skills and confidence needed to prepare for college.
To learn more about USU-Eastern GEAR UP program visit their website at https://usueastern.edu/price/gearup/index