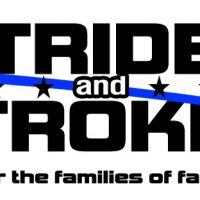 The Millsite Golf Course will play host to the Strides and Strokes 5K run and Golf Tournament to benefit families of fallen officers on August 12.
The 5K Run will open the day with a start time set for 7:00 a.m.. The golf tournament will be a four-man scramble, beginning at 9:00 a.m.. The cost to participate in the 5K is set for $20.00, and $60.00 per person for golf. A discount is offered for those who wish to participate in both with the entry fee running at $75.00.
All proceeds from the event will go to the Blue Haven Foundation and The Utah 1033 Foundation. The Blue Haven Foundation is devoted to the health and healing of those widowed through the tragedy of a line of duty death. The Utah 1033 Foundation recognizes the lives and ultimate sacrifice made by Utah's law enforcement heroes.
The register for the event, contact Madison or Cindy Draper at (435) 749-9771, or (435) 749-1216. For more information visit their Facebook page @stridesandstrokesgolf5k.