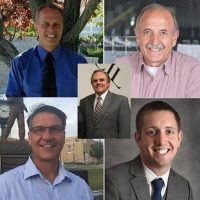 Castle Country Radio hosted a Q&A for this year's five Price City Mayoral Candidates on  Tuesday, August 9 on the campus of USU-Eastern. The goal for the event was to give Price citizens  an opportunity to hear how each of the candidates will govern the city's top seat.
Questions for the candidates were submitted via email and presented by the evening's moderator, Andrew Urbanik. Many townsfolk listened to the event on KOAL AM 750 or on 107.3 FM, otherwise they were able to watch it on koalitv.com. The event started with an introduction of all the candidates, followed by a two-minute opening statement from each of them. The order in which the candidates would answer the questions was determined by a draw prior to the start of the Q&A.
Various questions were submitted asked about the city's budget, what would each candidate cut to improve the city's budget, where do each of the candidates see Price in the next five to 10 years under new leadership. A few citizens that submitted questions wanted to know how each candidate planned on cracking down on the drug problem in the city and what they would do to keep our schools and local parks safe. Each candidate gave their thoughts on contracting with a private sector or keeping the work in house as far as parks development and motor pool. The majority of questions submitted covered various topics regarding concerns from local voters. Event organizers believe that as a whole, the Q&A was a very good insight on each candidate.
At the conclusion of the Q&A, Urbanik thanked each candidate for caring for the city and wanting to commit to the city for the next four years. Two-minute closing statements were made by each of the men as an effort to win over voters before primary voting which is to take place on August 15.
Price Native, Michael Kourianos started closing statements, "What do I want to run for Mayor? I care too much about our citizens and I care about our town. I want to work with the Governor's office on the project to create 25,000 new jobs in rural communities. Let me reiterate that basically this college is going to be the horse that pulls the carriage. I also look at other companies we have here in our community that have started from the ground up and I would like to use them as a resource for seeing what kind of industry we could bring in." He hopes voters will join him in being part of the solution and foundation for a future built on trust, cooperation and optimism.
Current Mayor, Joe Piccolo is seeking for re-election presented his remarks, "We're the twenty-fifth safest city to live in the state of Utah, there is 250 plus cities. We are the second-best city to live in for seniors in the state of Utah. We need to band together with our combined efforts to enrichen this community. There are many who are working hard to do just that. So as a result, we need to become invested in what they are doing or a constant source of renewal of energy and motivation. I'm asking for your vote, I believe I have one more term left in me to be committed, to renew my dedication to make this community better. I've always said it, we are about making good government better, it's not broken but can become better." Issues that he is currently working on are manufacturing and service job growth, local city road maintenance and repair, as well as transportation on Highway 6 and Highway 10 corridors to name a few.
Next up was current City Council member, Rick Davis who address the unemployment issue, "There is a lot of anxiety and concerns for the unemployment here in Carbon County and Price City. I share those, I have those same concerns and those same anxieties. But I promise you that I will work very hard to bring unemployment down in the county. I have an open dialogue with the commissioners. I want to bring businesses in to Price City. I'm retired, I have the time, I have the energy and I have the desire. I know I can do this job, just give me the chance."
Boyd Marsing was next to give his closing remarks, "Though the rural areas of this state have struggling we have so many great opportunities here in Price. Between our outdoor recreational, to the people here. The citizens of Price city are our greatest asset, they're strong, they're hardworking. I know that as a community come together, be more united that we can overcome the obstacles that we have. I know that I can work with those people from other cities and form the county, private businesses. So, I am so grateful for the opportunity to run for mayor."
The final candidate to offer his closing remarks was Carbon County Sheriff's Deputy, Rick Adams, "I'm not running for office, I'm not a political person. I'm not running for office, I'm running for you. I'm a great listener. I want to be your voice for the government part of this community. We live great place. I hope that you will take the time to give me the opportunity to make a great city, greater. My passion is there, my dedication is there. Get out and vote now don't wait until the fifteenth."
Early voting began on August 1 and will run through till Friday, August 11 at the Carbon County Administrative Building,  primary voting will be held on Tuesday, August 15 which will narrow the five candidates down to 2. The two will continue campaigning until the General Election on November 7.