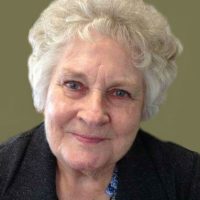 We so sadly lost an Angel on August 8, 2017. Norma Margaret Mangum passed away peacefully at her home in Emery, UT. She was surrounded by her family, and loved ones waiting on the other side of the veil. We are saddened but happy as she has waited 18 years to take her husband's hand and return to her Heavenly Father. She was 82 years old, and was the rock of her family.
Margaret was born on February 2, 1936 in Emery, UT, to Edgar Sorensen and Myrtle Brinkerhoff Sorensen, where she was also raised. She married to her sweetheart, Jerry D. Mangum, in Emery, UT, on February 25, 1956. They were sealed in the Manti Temple on April 27, 1963. She spent almost 50 years supporting and loving Jerry, as he was an Emery County Commissioner, Bishop, Stake President, and worked endlessly to support his family and many others. Behind every amazing man, is an absolutely amazing woman.
Margaret graduated from South Emery High School. She was a devote member of the LDS church, in which she joyfully served in many callings. Margaret and Jerry served a mission in Nauvoo, IL, in 1999, where Jerry passed away serving the Lord.
Margaret and Jerry lived in Orem, UT for nearly 20 years, before they moved to Indianola, UT to manage a ranch. They then moved back to Emery, UT where they established a well-respected name for the Mangums.
Margaret always wanted to be a teacher. She taught more than just her children and family members, and anyone she could. She also taught the many children that her and Jerry brought into their home to live, so they could experience what her kids would call a "Perfect Childhood". She was the ultimate "KoolAide Mom", as Jerry was the ultimate horseman.
She loved gardening, reading, the sounds of children, the noise of family gatherings. She loved to hum and sing, and was an author of many books. She loved to travel, and was so thankful that her late sister Pauline sent her on a vacation to Israel.
She is survived by her children:  Bonnie & Richard Graham of Las Vegas, NV; Raelyn & Rod Swasey of Ferron, UT; JD Mangum of Springville, UT; Brian & Becky Mangum of Salt Lake City, UT; Bruce & Shawna Mangum of Magna, UT; Shaun & Shannon Mangum of Spanish Fork, UT; and Melinda & Jason Lake of West Point, UT; son-in-law Sid Jensen of Castle Dale, UT; 29 grandchildren and 39 great grandchildren.