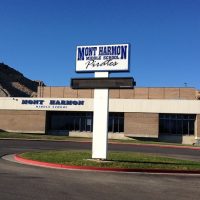 The first day of school for the Carbon School District will be on Thursday, August 24, students at Mont Harmon are kicking off the new year with some pretty impressive and modern renovations to the building.
This has been a two-year project in updating the much-needed heating/cooling system inside the school. Principal Seth Allred, describes, "Some of the duct work, you know with the new styles, they have the exposed duct work, you'll see big pipes in the hall for where the heat and air that comes in. We've had to this year band, choir, the cafeteria and the gym have all gotten new units and stuff in there." Parents and students that have attended registration recently may have noticed workers busily working on the final touches just in time for the first day of school.
Not only are students going to see cosmetic changes but also will notice new faces among faculty and staff. "In the office, you are going to see some changes there, we've had a switch in the Vice Principal, Mrs. Bedont has went to Lighthouse High School and Mrs. Bianco is joining us at Mont Harmon. So that's going to be a new change for us and she has a lot to offer," said Allred. "We've been in trainings the last two weeks with our staff, so they've been busy. As far as me, it's been working with getting the new teachers in place, getting them places to live, getting them on staff, getting them the training and we have nine new teachers, so you are going to see some new things but it's exciting what's going on there." A new school year is always enjoyable for educators to meet their students and watch them grow academically throughout the year.
Along with a newly renovated building, students, teachers/staff comes new policies established for students.  "One of the big changes you'll see at Mont Harmon is a we use to let the Chromebooks go home and this year at Mont Harmon and Helper they are classrooms, so they will only be in the classrooms and not going home with the students. So that is one of the big changes that parents will see, they won't have to worry about that, the damages and the student loss but every class room will have a set for the students to use," said Allred. The new system will allow students to have immediate access to the readily set up devices instead of waiting to be assigned one. School officials hope to see a substantial decrease in repairs that have been quite costly over the last two years.
To learn more about what is going on at Mont Harmon Middle School visit their website at http://www.carbonschools.org/MHMS