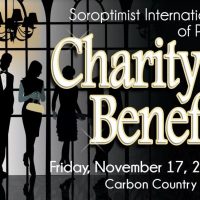 The Annual Soroptimist International of Price Annual Charity Benefit is days away and tickets are going fast. The event will take place on Friday, November 18 from 7:00 pm to 9:00 pm at the Carbon Country Club.
"Soroptimist was founded 62 years ago by Helen Oliveto Smith. The mission of the Soroptimist is to better the lives of women and girls through our community and throughout the world," said Soroptimist member, Terry Willis. "This service organization has been going on – like I said for 62 years, which is amazing in today's world, where most service organizations are dying out, our club is going strong, we have about 25 members right now." Interested in being a part of the Soroptimist International they hold their monthly meetings on the third Wednesday of each month at 6:30 pm at the Carbon Country Club.
Attendees at the evening's event must be 21 years of age to attend this event.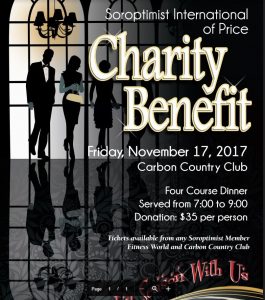 "There will be adult beverages that you can sample. It also comes with a wonderful four course dinner; we serve that from 7:00 pm to 9:00 pm
It will be different than just your standard buffet, it will be a dinner to just savor," said Willis. The donation cost is $35.00 per person and tickets are available from any Soroptimist Member.
All the proceeds from the annual event stay in the community and fund projects that benefit women and girls. Projects that Soroptimist has helped in the past have been The Women's Shelter, The East Carbon Clinic, Eastern Utah Women's Health Clinic, as well as a few grants to assist low income, head of household women to continue their education to better the lives of their families.
To learn more about Soroptimist International of Price visit their Facebook page.