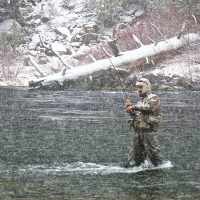 The Christmas holiday is just weeks away and this year the Division of Wildlife Resources has a perfect Christmas gift idea for your favorite outdoorsman.
"One thing we hope people will consider as they are getting Christmas gifts for their relatives and friends is hunting and fishing licenses. They make great Christmas gifts and it's something that you can give them year, after, year," said Conservation Outreach Manager, Morgan Jacobsen. There are several hunting seasons such as cottontail rabbit, chukar partridge and snowshoe hare that can be enjoyed during the winter months. This is a perfect time to for adults to begin teaching youngsters how to hunt and learn gun safety.
The cost to purchase a license is determined by the individual's age. The price for a 365-day hunting license starts at $11.00, while fishing begins at $5.00. There is a combination licenses available for both hunting and fishing which starts at $20.00.
"Buying a license has never been easier, you can buy it at www.wildlife.utah.gov – it's super easy. All you need to know is the person's name, their approximate height and weight, their eye color, hair color, their date of birth and their address and phone number," said Jacobsen. A license may be purchased at retail stores or over the phone.
If the person you're buying for is over the age of 18 years old can upgrade from a one-year license to three, four or even five years. If the individual already has a valid license that is within six months before it expires can purchase an extension.
It's important to know that a hunting and combination license only covers small game. All deer and elk hunters must apply for a 2018 general buck der permit starting in late January. General elk permits will be available on a first-come, first-served basis starting in July.
For more information about Utah fishing and hunting licenses visit the website or call DWR at 613-3707