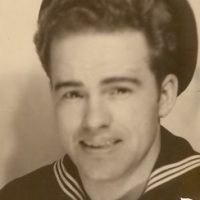 Orson Winferd Dalton born September 4, 1926 in Salt Lake City, Utah, passed from this life February 5, 2018 in Phoenix, Arizona.  He was the second child born to Loren and Winifred Jones Dalton.  His siblings are: Cecil (deceased & Lucille Foote Dalton), Jerrold (Norma Rich Dalton), Winona (Floyd Jones and Ned Garcia – all deceased), Clarasee (Del Ray Brotherson – both deceased), Jack (Lavern Wright Dalton, deceased) and Corna O'Rafferty.
He was attending school in Emery County when he enlisted in the United States Navy.  He fought in both World War II and the Korean Wars.  Orson was on the ship and witnessed the signing of the Peace Treaty with Japan.  He was proud of the many pictures he took.
He later obtained his high school diploma with his wife, Ina, in California.  His first marriage to Bonnie Messenger ended in divorce.  To that marriage two boys were welcomed, James Dalton and Terry Mark Dalton (deceased).  He later married Ina Lace Gibson Dalton who he loved and cared for until her death in 2011.  Together they were blessed with 4 additional children, Alice, Donna Mae (deceased), Sandra Lynn, and Orson Loren (deceased).
Orson worked in Oregon and California where he was an operator/owner for Standard & Chevron garages.  After retirement, he and Ina moved to Arizona.  Upon her death, he moved to Tooele, Utah to care for his sister, Winona Garcia.  After Winona passed, he moved to New Mexico to live with his younger brother, Jack Dalton.  They spent their time building dune buggies and restoring old cars.  He loved to play his guitar, write songs and poetry.  Orson will be remembered for his service in caring for his wife and sister.
He is survived by his two daughters, son, grandchildren and great-grandchildren.
Graveside services will be Tuesday, February 13, 2018 in the Cleveland City Cemetery at 1:00 p.m.  Services are in the care of Fausett Mortuary of Emery County.  Family and friends may sign the online guestbook and share memories of Orson at www.fausettmortuary.com.