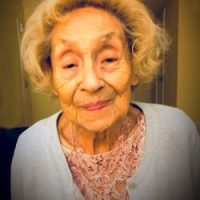 Adelia T. Ramos peacefully passed from this earth and into heaven on Monday, March 5th, 2018, at her home in Marietta, Georgia. She was encompassed with love by her daughter and surrounded by family who dedicated themselves to her care.
Maria Adelia Trujillo was born on Saturday, April 15th, 1922 in El Vado, New Mexico to Tobias Trujillo, a sheep herder and Fedelina Velasquez, a seamstress. She was raised with her siblings, Francesquita, Carlotita, Ramonsita, Rafaelita, Melita and Walter.
Adelia married Teodolo Anton Ramos, a Pentecostal Evangelist, on April 30th, 1937. They traveled west together to Utah, living in Blanding and finally settling in Dragerton, where they raised 7 children.
Affectionately called "Ito", she was a caretaker, a skilled homemaker who took pride in her personal appearance and the presentation of her home. She was a diligent housewife and was structured in her approach to daily life, spending hours enjoying embroidery and blanket making. She experienced joy in gifting her beautiful creations to her family and dear friends. An excellent cook, Ito prepared countless meals for her family. In her house, there was plenty of food and love to go around.
Strong in her faith, she leaned on Jesus and prayed for her family. Because of her endearing smile she made friends wherever she went. She loved babies, the color pink and she never turned down something sweet.
She was member of the Veterans of Foreign War Auxiliary Post 2681 and the Disabled American Veterans Auxiliary Unit 6.
She will be missed by all who were blessed to know her.
Preceded by her parents, her sons, Danny Ted and Jerry Geno Ramos, her daughter Betty Stone, her grandsons, Edward Ted and Danny Trujillo and her granddaughter Samantha Brooke Curry.
Survived by Dave (Donna) Ramos, Sandy, UT, Alice Lee, Itasca, IL, Dorothy (Willie) Guzman, Marietta, GA, Joy Majors, Huntington, UT, Terilyn Ramos, Helper, UT and Ted (Charlene) Ramos, Aztec NM. 20 grandchildren and many great-grandchildren and great-great grandchildren.
The family would like to thank the Dr's and Nurses at Wellstone Kennestone Hospital and Roselane Rehabilitation for their kindness and compassion.
Celebration of Life, Monday, March 12, 2018, 11:00 a.m., Mitchell Funeral Home (233 East Main Street) in Price. Family will receive friends at Mitchell's Sunday evening from 4:00-6:00 p.m. and Monday one hour prior to service. Interment, Cliffview Cemetery, Price. Arrangements entrusted to Mitchell Funeral Home where friends are always
welcome daily and may share memories of "Ito" online at
www.mitchellfuneralhome.net