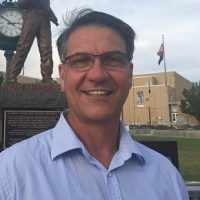 Just shy of completing his third month in office, Price City Mayor Kourianos is settling into his new position, getting familiar with local issues, enabling him to lay out a vision for the city and its citizens.
"There is a whole different view of this position of being mayor, it's a lot of work and a lot of time. I feel really confident in trying to accomplish my goals," stated Kourianos. It has been a challenge to not have his ideas come together in a timely fashion but is enthusiastic about the process. One important factor that he is trying to implement with the city's employees is to remember the customer for Price City is its citizens. Once this is understood the process will speed up and government officials will be able to achieve the goals that have been set.
During his campaign, he talked about the beautification of the city and how he would like to tackle those projects throughout the community. "I love when someone catches the vision that I am trying to explain and they just take a hold of it; Bret Cammins and Layne Miller, as I talked with them about making Price City Library more inviting, making it kind of like a Barnes and Noble," stated Kourianos. The library will be getting a facelift that is sure to be more appealing for visitors. The project will involve the removal of the front panels so that bigger windows can be installed. The new library design will create an idyllic setting for reading, which will draw in more citizens wanting to visit the library. There will also be a small coffee and pastry shop located inside the building as well.
Another great thing on Main Street is taking place inside the old JC Penney building. "So, we have Accelerant coming in and putting in applied technologies in that building. Right now, they are putting us on the Wasatch front; I mean they are getting Price City's name out on the Wasatch front," said Kourianos. Accelerant's mission is to create local jobs and trail rural residents for the specific skill sets urban employers need in tech, information, sales, marketing and professional service sectors. In June, the Hub will host cooperate types to introduce them to the area and possibly entice them to bring in their business to our community which will enable job opportunities for residents.
The mayor is eager for the new opportunities taking place in the city and will continue to bridge the gap between the city and county so that they can work together for the residents.