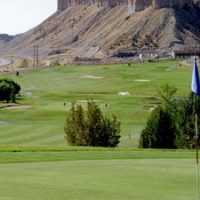 Participating in a region meet for the first time since March 21, the Carbon Lady Dinos finished third at the Canyon Hills Golf Course, the home site of the Juab Wasps, in Nephi Wednesday afternoon.
Playing in fair conditions throughout the meet, the Lady Dinos finished with a team score of 410. Providence Hall made up plenty of ground as they delivered a first place performance with a 398, topping second place Delta's 407. Juab and Union rounded out the field of five in fourth and fifth place.
"The region title just got interesting with Delta, Carbon and Providence Hall all within striking distance," said head coach Kenji Otani. "It's going to be fun the rest of the way. "
Carbon entered the meet trailing Delta by just three strokes for the top spot in the region. While Delta managed to increase their lead over Carbon, Providence Hall pulled within four strokes of the lead.
Aubrey Fausett's 95 turned out to be the low individual score of the afternoon for Carbon. Sam King fired the second low score with a 98, while Jordan Bianco ended with a 106. Jessica Hansen's 111 qualified as the team's fourth score.
With only two meets remaining in the region season, the Lady Dinos will play host to their only home meet of the season on April 19. The team will wrap up the regular season the following week in Roosevelt.
Below are the current overall Region 14 standings:
1- Delta- 1,435
2- Providence Hall- 1,439
3- Carbon- 1,441
4- Juab- 1,477
5- Union- 1,552
6- Maeser Prep- XXX