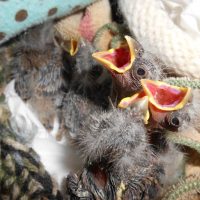 Springtime is baby bird season, which is a busy time for Second Chance Wildlife Rehabilitation in Carbonville. The non-profit organization begins to receive telephone calls from citizens that they have found a baby bird that has either fallen out of their nest or has been abandoned by their mother.
"What I ask the public this time of year is pay attention to what you're doing, if you're out trimming trees and bushes, look around and if you already got nests active, if you see birds coming and going from those nests, just hold off a little bit," said Debbie Pappas, Director. "Little tiny birds that we see in our yards this time of year, they usually only spend about 14 days incubating those eggs." Citizens are strongly encouraged to leave that area alone during the incubation period. Any disturbances to the birds can affect the outcome of incubation and/or lead adult birds to abandon their nests.
"A lot of people don't realize that there is actually laws, federal laws regarding nests and eggs, even being in possession of them because the nests are actually protected. There is reasons for that and a lot of people don't understand that but there truly are good sound reasons for that," stated Pappas. It's illegal to remove or destroy any active nest from any native bird species. An active nest is characterized as a nest with eggs or brooding adults in it.
Any individuals that come upon a nest that has been blown down from the wind or ransacked by a predator or just looks flattened with no sign of the birds, it's most likely they prospered. If a nest is discovered to be torn up, facing upside down with broken eggs, then they probably failed.
Second Chance Wildlife Rehabilitation is a state and federally permitted wildlife rehabilitation facility in Eastern Utah serving many counties throughout Utah. They are a non-profit organization where 100 percent of its funds go directly to the care and needs of the wildlife. The organization is always looking for individuals to volunteer, especially those that specialize in carpentry or electrical work to help with the ongoing construction of enclosures on the premises. If you would like more information on volunteering call (435) 650-3441 or to learn more about Second Chance Wildlife Rehabilitation visit their Facebook page.
PHOTO COURTESY OF SECOND CHANCE WILDLIFE REHABILITATION