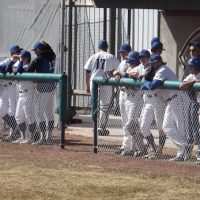 A slow start plagued the Carbon Dinos in a 12-4 loss to the Grantsville Cowboys in the 3A State Championship Saturday evening in Kearns.
Allowing six runs in the opening inning the Dinos played from behind the entire contest. Carbon cut the lead in half with a three run second inning. Grantsville responded with four more in the bottom half of the same frame.
Nate Olson was charged with the loss on the mound as he allowed five hits and five earned runs in one inning.
Braxton Bennett worked two frames in relief, allowing one hit and no earned runs. Adrien Sanchez pitched three innings, giving up five hits and one earned run.
As a team the Dinos ended with ten hits compared to Grantsville's 11. The major difference came in the field as Carbon committed five errors compared to the Cowboy's one.
Ty Anderson delivered a stellar performance at the plate finishing 2-3 with three RBIs and a double. Collin Lewis also recorded two hits, while also scoring one run. Anthony Jones ended 1-2 with one RBI, one walk and one run.
The Dinos advanced to the State Championship by earning three consecutive wins in the one-loss bracket.
After falling to Grantsville in the quarterfinals on Thursday, Carbon defeated Union, Manti and Richfield to earn the right to play for the championship on Saturday.
The runner-up performance caps a brilliant year for the Carbon baseball team. Earning their first region championship in nearly ten years, the Dinos wrapped up league play with a 9-1 record.
Ending 21-9 overall five of the team's nine losses came against opponents from higher classifications.
Stay tuned to Castle Country Radio for a complete recap of the 2018 baseball season in the coming days.