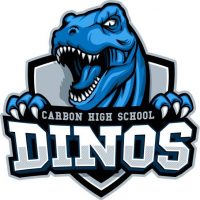 The Carbon Dinos played host to five other schools for the Region 14 Track and Field Championship Meet this past Wednesday and Thursday at Carbon High School.
The Carbon Lady Dinos made a strong splash with a second place finish after accumulating 116 points, finishing behind Juab's 131. Delta ended just behind Carbon in third with 114 points. Union and American Leadership Academy completed the top five, while Maeser Prep ended in sixth.
Carbon delivered a third place performance on the boy's side of the track, finishing with 111 points. Delta edged out Juab for first place by a final score of 130-126. Union, Maeser Prep and American Leadership Academy completed the field.
Individually Shannon Baker was once again a standout performer for the Lady Dinos. Baker's time of 1:00.31in the 400 meters was enough to claim first place in the event. She also logged a second place mark in the 200 meters a third place performance in the 100 meters.
Jodi Noyes claimed the other first place finish for the Carbon's girls team with a final metric throw of 9.88. Noyes also finished second in the discus with a final throw of 28.37.
As a team the Lady Dinos secured six second place finishes and two third place marks. The depth scoring helped Carbon climb the overall leaderboard to second.
Junior Derek Hillam anchored the Carbon boy's team with multiple top three finishes. To no surprise Hillam grabbed the top spot in the Long jump and also helped the 4X400 and 4X100 teams to first place. He also ended third in the 300 meters.
James Bryner wracked up points with a first place nod in the 3200 meters. Carbon added even more points in the event as Chad Page and Ammon Wilson ended in third and fourth.
With the region finale now complete, the Dinos will turn their attention to the state finale this weekend at Brigham Young University in Provo.
Click HERE to view the complete results from the Region 14 Championship meet.