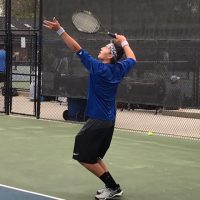 A total of five Carbon High School tennis players participated in the 3A State Championship Tournament Friday afternoon at Liberty Park in Salt Lake City.
Junior Carson Martines was the lone Carbon qualifier in the singles competition. Entering as the No. 3 seed from Region 14, Martines dropped a straight set match to Grand junior Kasey Kemp, 7-5, 6-2.
While Martines was the lone representative in the singles tournament, the Dinos had two doubles teams participate in the season finale.
Seniors Canden Stockdale and Jackson Rosier suffered a hard fought loss to Grand's Tanner Mascaro and Braxten Pierce 6-6 (7), 4-6, 6-4. Stockdale and Rosier entered the state finale as the No. 2 seed from Region 14.
Junior Jack Christensen and sophomore Bonham Brewer also entered the State Tournament as the No. 2 seed from Region 14, but were also eliminated in the first round. Dropping the first set 7-5 and the second 6-2, the Carbon duo was eliminated by Waterford's Spencer Norris and Omeed Moshirfar.
Click HERE to view the complete brackets from the 3A State Championship Tennis meet.