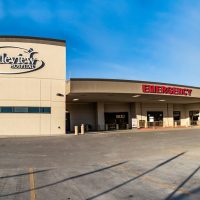 Castleview Hospital was recently named to the Top 20 Rural Community Hospitals out of 2,157 Hospitals. This is all based upon achieved success and overall performance, including patient safety and quality outcome indicators.
The Top 20 Rural Community Hospital winners are those hospitals who have achieved success in the overall performance based on a composite rating from eight indices of strength: inpatient market share, outpatient market share, quality, outcomes, patient perspectives, costs, charges and financial stability.
This group was selected from iVantage's Top 100 Rural Community Hospital list, released earlier this year.
"Castleview Hospital is proud of the efforts of its physicians and staff who have contributed to our hospital achieving this designation," said Mark Holyoak, Castleview Hospital CEO. "Our results as a top healthcare provider means our community can count on us to deliver the services they need now and in the future. I would also like to thank the community for their continued support, I know we could not have achieved this without them."
"NRHA is committed to ensuring our members have the best information to manage their hospitals," said Brock Slabach, NRHA membership services senior vice president. "And we're pleased to recognize the accomplishments of these rural community hospitals."
Castleview Hospital's administration team were able to attend an awards ceremony on May 10, to receive the award.
The Top 20 Rural Community Hospital winners, in alphabetical order are:
Avera Queen of Peace Hospital                 Mitchell, S.D.
Avera ST. Luke's Hospital                         Aberdeen, S.D.
Avera ST. Mary's Hospital                         Pierre, S.D.
Baxter Regional Medical Center                 Mountain Home, Ark.
Bozeman Health                                    Bozeman, Mont.
Castleview Hospital                                Price, Utah
Cedar City Hospital                                 Cedar City, Utah
Central Vermont Medical Center                Berlin, Vt.
Chippewa County War Memorial Hospital    Sault Sainte Marie, Mich.
Davis Medical Center                               Elkins, W. Va.
Faith Regional Health Services                  Norfolk, Neb.
Ivinson Memorial Hospital                        Laramie, Wyo.
Major Health Partners                             Shelbyville, Ind.
Memorial Hospital and Health Care Center   Jasper, Ind.
Mid-Michigan Medical Center-Alpena           Alpena, Mich.
Northern Maine Medical Center                 Fort Kent, Maine
Olympic Medical Center                           Port Angeles, Wash.
Prairie Lakes Healthcare Systems              Watertown, S.D.
Sheridan Memorial Hospital                      Sheridan, Wyo.
St. Peter's Hospital                                 Helena, Mont.
St. James Healthcare                              Butte, Mont.
St. Peter's Hospital                                 Helena, Mont.
Castleview Hospital has been serving surrounding communities since 1980, it is a family of approximately 400 associates, physicians and volunteers. Castleview Hospital is a 49-bed facility and includes Emery Medical Center. Our mission is to make our community healthier and provide high-quality healthcare close to home. For more information please visit our website at www.castleviewhospital.net.
About the National Rural Health Association
NRHA is a nonprofit organization working to improve the health and well-being of rural Americans and providing leadership on rural health issues through advocacy, communications, education and research. NRHA membership is made up of 21,000 diverse individuals and organizations, all of whom share the common bond of an interest in rural health. For more information, visit RuralHealthWeb.org.
About iVantage Health Analytics
iVantage Health Analytics, Inc.™ is a privately held healthcare business intelligence and technology company. The company is a leading provider of information products serving an expansive healthcare industry. iVantage Health Analytics™ integrates diverse information with innovative delivery platforms to ensure customers' timely, concise, and relevant strategic action. For more information, visit www.iVantageHealth.com.