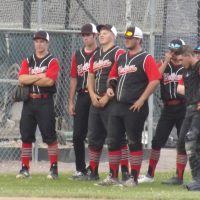 The Helper American Legion baseball team finished 3-1 and claimed the RBI Tournament Championship during a four-game in three-day stint this past weekend in Burley, Idaho.
Entering with a perfect 2-0 record on the season Helper started the tournament with two wins before falling to Burley in extra innings. The team recovered on Saturday with a 7-3 win over Jerome to clinch the tournament title for the second consecutive season.
Helper will return to the diamond Tuesday for a road double-header against Vernal in Southern Division play. Helper's next home game will take place Friday against Dixie at 7:30 p.m..
Below is a complete recap from each of the team's four games in Idaho:
Thursday:
Helper- 2, Minico- 1 FINAL
Playing for the third time in two days, Helper plated two runs in the first frame off of a Jaden Robertson single. The two run cushion was just enough offense for the Merchants to improve to 3-0 on the young season.
Triton Abeyta delivered a complete-game gem from the mound, allowing just six hits and one earned run in seven innings of work. Abeyta fanned two batters and walked just one to pick up his first win on the hill.
Both squads accumulated six hits and left eight runners stranded throughout the contest. Minico plated their only run in the fourth inning, adding to the drama of a pitcher's duel over the final three frames
Friday:
Helper- 6, Blackfoot- 5/ FINAL 8 innings
Nick Olson paced Helper offensively with one double and three RBIs. Jayden Flemett and Jadon Robertson each plated one run.
Flemett recorded the win on the mound after working three innings of relief, while keeping the opposition hit-less. Zac Bradley threw five innings, allowing two earned runs and four hit on top of six strikeouts.
Helper- 10, Burley- 11/ FINAL 8 innings
Jadon Robertson laced two doubles and brought in four runs to lead Helper in the first loss of the season. Ty Anderson and Nick Olson also recorded three RBIs, while Anthony Jones and Triton Abeyta finished with one.
Easton Gordon fanned ten batters and allowed just two earned runs in five innings on the mound. Jadon Robertson and Braxton Bennett finished off the remaining six outs.
Saturday:
Helper- 7, Jerome- 3 FINAL
Braxton Bennett pitched a complete-game, giving up six hits and one earned run to lead Helper past Jerome, earning the tournament's championship in the process.
Ty Anderson helped pace the offense with one double, one RBI and a stolen base. Jayden Flemett recorded a double and one RBI.