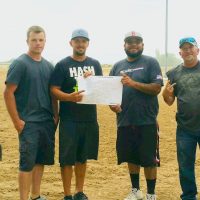 Ricky Neil Sandoval and Clinton Badback claimed first place in the first ever Warrior Days Horseshoe Tournament Saturday afternoon at the Carbon County Fairgrounds.
Competing against 13 other teams, Sandoval and Badback topped Mike Lofley and Dustin Lofley in the tournament's championship game. Justin Prettyman and Dakota Andrews rounded out the top three.
The series of horseshoe competitions will continue with East Carbon's Community Daze on Saturday, July 14. Registration will start immediately after the parade. The afternoon will come equipped with two separate tournaments.
The first will be a singles-single elimination format, which will be capped off at 20 individuals. The cost to participate is $10.00 per person.
The second tournament will be a doubles-double elimination format, taking place immediately after. The cost to participate will be set at $20.00. Cash prizes will be awarded to the top three in each category.