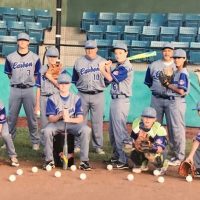 The Carbon Cal Ripken 12-year-old All-Stars will continue the summer with a trip to the regional tournament on Monday, July 15 in Long Beach, Calif.
After winning the Southern Utah State Championship with a victory over Vernal, Carbon once again qualified for the regional tournament. The team will now compete in pool and tournament play against nine other teams.
Matched with Long Beach, Northern Utah, Central California and Nevada, Carbon will play four games in five days. If the team can accumulate a top two record in the pool, they'll advance to a single elimination tournament on Saturday, July 21.
Below is the complete pool and schedule for all games surrounding the tournament. Stay tuned to Castle Country Radio for updates during the tournament.
| | | |
| --- | --- | --- |
| Pool A | Record | Runs Allowed |
| Long Beach (Host) | | |
| Northern Utah #2 (Herriman) | | |
| Central California #1 (Visalia) | | |
| Nevada (Fallon | | |
| Southern Utah (Carbon) | | |
| | | |
| --- | --- | --- |
| Pool B | Record | Runs Allowed |
| Central California #2 | | |
| Arizona | | |
| Northern California | | |
| Northern Utah #1 (Taylorsville) | | |
| Hawaii | | |
| | | |
| --- | --- | --- |
| Monday, July 16, 2018 | Game | Result |
| 11:00 AM | Central Cal #1 VS Nevada | |
| 1:30 PM | Arizona VS Central Cal #2 | |
| 4:30 PM | Northern Cal VS No. Utah #1 | |
| 7:00 PM | Long Beach VS Carbon | |
| | | |
| --- | --- | --- |
| Tuesday, July 17, 2018 | Game | Result |
| 11:00 AM | Hawaii VS Arizona | |
| 1:30 PM | No. UT #2 VS Central Cal #1 | |
| 4:30 PM | Nevada VS Carbon | |
| 7:00 PM | No. Utah #1 VS Central Cal #2 | |
| | | |
| --- | --- | --- |
| Wednesday, July 18, 2018 | Game | Result |
| 11:00 AM | Nevada VS No. Utah #2 | |
| 1:30 PM | Arizona VS Northern California | |
| 4:30 PM | Central California VS Hawaii | |
| 7:00 PM | Central Calif. #1 VS Long Beach | |
| | | |
| --- | --- | --- |
| Thursday, July 19, 2018 | Game | Result |
| 11:00 AM | Carbon VS Northern UT #2 | |
| 1:30 PM | Central Calif. VS No. Calif. | |
| 4:30 PM | Hawaii VS Northern Utah #1 | |
| 7:00 PM | Long Beach VS Nevada | |
| | | |
| --- | --- | --- |
| Friday, July 20, 2018 | Game | Result |
| 11:00 AM | Northern UT #1 VS Arizona | |
| 1:30 PM | Northern Calif. VS Hawaii | |
| 4:30 PM | Carbon VS Central Calif. | |
| 7:00 PM | No. Utah #2 VS Long Beach | |
| | | |
| --- | --- | --- |
| Saturday, July 21, 2018 | Game | Result |
| 10:00 AM | Pool A #2 VS Pool B #1 | |
| 12:30 PM | Pool A #1 VS Pool B #2 | |
| | | |
| --- | --- | --- |
| Saturday, July 21, 2018 | Championship Game | Result |
| 3:30 PM | | |