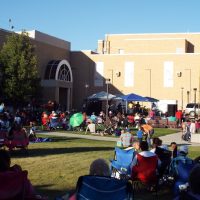 The Price City Culture Connection is a free concert series that takes place every Thursday evening during the summer months as a means to bring the community together.
Taking the stage this week, August 9 at 7:00 pm, is Jennifer Lopez, Kristy Woodhouse and Sherri Vlamakis with the possibility of some special guests. The trio of talented women will perform popular, country, old and new classics tunes. Each of the women is talented in their own right and perform at many community events throughout the year.
The outdoor summer concerts are a great way to unwind from the hustle and bustle of a busy work week. Spectators are reminded to bring their lawn chairs and blankets as they find a spot to sit and enjoy the band. Remember to invite family members, friends and neighbors out for an entertaining evening at the Price City Peace Gardens on Main Street. Don't worry about dinner because Market Express will be manning the grill with several dinner items to purchase.
Although changes and cancellations may occur they are uncommon. In case of inclement weather, entertainment will be canceled unless otherwise specified. To see this year's concert schedule, visit their website at http://www.priceutah.net/
Next week's performance is the final concert of the summer and will be featured as the opening of the Helper's Arts, Music and Film Festival on August 16. Taking the stage in the park on Helper's historic Main Street will be the talented and energetic band called  Route 89 is a seven-member band that entertains their fans with tunes that will make you dance and sing along to.