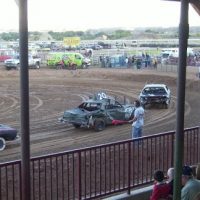 The annual Carbon County Search and Rescue Demolition Derby will return to the Carbon County Fairgrounds on Saturday. Following the success of last year's packed show, organizers are expecting possibly the biggest turnout in years.
"It's twofold for the Sheriff's Office, and the Carbon County Search and Rescue," said Carbon County Sheriff Jeff Wood Wednesday on KOAL's Drive Time Sports. "Of course it is a fundraiser for the search and rescue, but we also want to put on a quality, family-friendly show."
The annual derby is the only way the Carbon County Search and Rescue generates funds for operation. For the last two years the derby has been held in conjunction with the Carbon County Fair.
"About three years ago we didn't have very many cars show up," said Wood. "We now start working on getting drivers in October. We look to improve the derby immediately after it ends, and last year turned out great."
Over 30 cars are expected to compete in five separate classes in Saturday's event. Returning to the derby is the traditional 80's and newer division, full sized trucks, mini van/trucks, and the misfit class. The largest class is expected to be the mini class, all cars with a 109 inch wheel base or less. The amount of participants is due in part to the year-round effort that goes with the show.
The Search and Rescue is a volunteer entity so proceeds from ticket sales helps generate the funds needed to help their team through the year. "Demolition Derby you know we only have one in this county a year, it's a big event, should be a lot of fun. It's a way for Search and Rescue to make money but it's also a way for us to say, thank you to our community," stated Wood.
The gates will open at 4:00 p.m., and the derby itself is expected to start at 6:00. Advanced ticket sales will open Thursday at Tire King, Grakos and Dinosaur Tire. There will also be a booth set up outside of Big 5 Sporting Goods. Ticket prices will increase the night of the event at the gate.