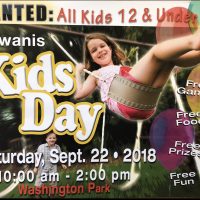 The Price Kiwanis Club would like to invite all youngsters under the age of 12 years old to come to the annual Kids Day celebration at Washington Park located at 150 East 450 North in Price on Saturday, September 22 from 10:00 am to 2:00 pm.
"Kid's Day – its free for all the kids 12 and under. We will be giving away hot dogs, ice cream and a whole bunch of bikes and prizes. There will be bouncers and jumpers, games and races," Kiwanis Club member, Nick Tatton. Typically, the third Saturday in September is recognized as Kiwanis Kids Day, with a few exceptions of some clubs because each community's needs are different.
All children under the age of 12 years old, in attendance on Saturday will be entered into an opportunity drawing. Children will have a chance to win sporting equipment, bicycles and other fun items that have been donated to the event. Children must be present at the time of the drawing in order to win.
The organization's main focus is to give children a chance to grow, learn, experience and succeed.  "Kiwanis is a children's charity and we do a couple of big fundraisers, the Duck Race – when there are other things going on at the Fourth of July up at Scofield, the big radio auction in the Spring that is a major fundraiser for the club," stated Tatton. The proceeds earned at yearly fundraisers help to fund Kids Day, plus the Sub for Santa program, plus offer financial assistance to children in of eyeglasses and hearing aids.
To learn more about Kiwanis of Price Utah visit their Facebook page.