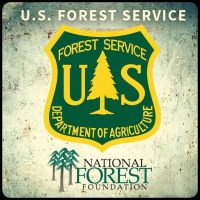 On October 5, 2018, the USDA Forest Service is publishing a Notice of Availability (NOA) in the Federal Register announcing the release of a Draft Environmental Impact Statement (DEIS) with proposed amendments to Forest Service land management plans for greater sage-grouse. The affected plans occur within five western states: Colorado, Idaho, Nevada, Wyoming, and Utah. The purpose of the proposed changes is to improve the clarity, efficiency, and implementation of the current greater sage-grouse plans, including promoting landscape-scale alignment with state efforts.
Greater sage-grouse populations have been impacted by a variety of threats, including the loss of habitat from wildfire and the spread of invasive weeds like cheat grass. The USDA Forest Service, along with the Department of Interior's Bureau of Land Management, amended land management plans in 2015 to address threats and to improve habitat conservation for greater Sage-grouse. Agency actions in 2015 helped to prevent greater sage-grouse from being listed as a threatened species under the Endangered Species Act, but in the three years since the plans were originally implemented, new science and management details have emerged. Lessons-learned will be incorporated into revised plans with the intent to make plans even more efficient and effective.
"All of our stakeholders have been instrumental in our efforts to conserve greater sage-grouse habitat," said John Shivik, the Forest Service Greater Sage-grouse Coordinator. "Our partners, including the general public and specialists from state and local agencies, continue to help us by sharing their observations about the current plans."
The comment period will last 90 days from the date of the publication of the NOA in the Federal Register.
The public is encouraged to comment on proposed actions in the DEIS.  After reviewing comments on the DEIS, the Forest Service intends to continue the planning process by producing a multi-regional final Environmental Impact Statement in early 2019, and final plan amendments in the summer of 2019.
To read and comment on the DEIS please visit the Forest Service Intermountain Region Webpage: https://www.fs.usda.gov/detail/r4/home/?cid=stelprd3843381