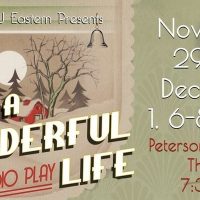 The Utah State University Eastern Theatre Department is in the middle of their second production of the school year entitled It's a Wonderful Life – A Live Radio Play. This is an American holiday classic that comes to life at the USU Eastern's CIB Peterson Black Box Theatre on December 1, 6 through 8 at 7:30 pm.
"The show itself it takes place as if you are the audience coming in to watch a live event in an actual radio station during the forty's," stated Stage Manager Christopher Vlamakis. "So, you come in, the radio station is all set up with microphones and everything and you are watching them put on a radio show. So instead of doing the normal scene changes." Back in the 1940s during the time of radio shows a lot of the actors were handed their scripts just hours before the broadcast leaving very little time to memorize their lines.
This particular production has a very small cast with some actors playing numerous characters as Vlamakis explains, "We have if you are including myself, nine people. So, and again, there's a couple like people who are playing George Bailey and Mary are really only playing those. But we have several others who are playing three or four and I think we have one that is playing five, five smaller characters." This type of radio broadcasting was a dominant means of entertainment back in the 1940s and like back then the audience will be able to see and hear some unique sound effects used throughout the play.
The actors are under the direction of Dr. Corey Ewan who brings to life one of the most well-known American holiday classics with a radio twist. The story is about George Bailey who considers ending his life one fateful Christmas Eve until he is confronted by an Angel who shows him what life would be like without him.
The remaining dates of the play are December 1 and 6 through 8 at 7:30 pm. Doors open at 7:00 pm. Ticket prices are $12.00 Adults, Senior $9.00, USU Eastern Faculty/Staff $7.00, Students $7.00, USU Eastern Students $3.00 and Children $5.00.
This will be the final production for the Fall Semester.