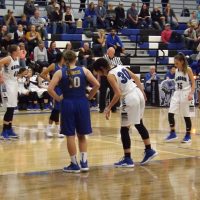 The Carbon Lady Dinos managed to overcome a slow start and rally past Central, Colo. High School 39-31 Thursday afternoon in Fruita, Colo.
Playing the first of three straight games at the Fruita Invitational, the Lady Dinos entered the break trailing 19-15. Carbon upped the pressure defensively, holding Central to just 12 points in the second half to rally for the win.
Cora Lamborn scored a season-high 13 points to help the Carbon offense. While the Lady Dinos converted just 10 field goals, they managed to go 17-23 at the charity stripe in the victory.
Jordan Bianco continued to show efficiency on the offensive side of the ball with eight points. Abbie Saccomanno chipped in with six and Jodi Noyes finished with five.
Thursday's win moves Carbon to 5-0 overall on the season, but provided the most competition they have seen on the court so far. The Lady Dinos won their first four games of the season by an average margin of 32 points.
Carbon will now shift its focus to Friday's contest with Grand Junction High School. The weekend tournament will come to an end on Saturday against Fruita Monument.