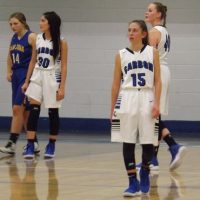 The Carbon Lady Dinos ended a two-game losing skid with a dominating 42-24 win over the Juab Wasps in the Region 14 opener Tuesday night at Carbon High School.
Holding Juab to just two points in the opening quarter, Carbon developed a comfortable lead early and never looked back. Defensively the Lady Dinos allowed just two made field goals throughout the game.
Jodi Noyes continued to impress offensively with a team best 13 points in the victory. Abbie Saccomanno scored nine of her 11 points from beyond the three-point and Jordan Bianco chipped in with seven.
Carbon outscored Juab 12-0 from the three-point line and 34-4 from the field. The Wasps relied heavily on foul shots to avoid a blowout, knocking down 20 of 22 attempts.
Bayli Heap paced the Wasps in the loss with eight points, three rebounds and one steal. Willow Kay finished the contest with six points.
The Lady Dinos will take Wednesday off before returning to the court with another Region 14 contest on Thursday against Providence Hall. Thursday's game will be the last home tilt before the team ventures on a four-game road trip.