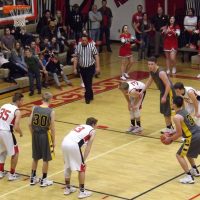 The Emery Spartans move to 10-3 and 2-2 in region with a 102- 85 victory over the North Sanpete Hawks Friday night in Mt. Pleasant.
After a back and forth first quarter the Spartans rallied behind senior guard Kyson Stilson and his season high 38 points. Junior Brax Jensen scored 22 and pulled down 6 rebounds in addition to going 10-of-13 from the foul line, on a night that saw Emery shoot 81% from the charity stripe.
The Hawks (4-10, 0-4 in region) were led Kout Mayoui, a six foot four inch senior forward with 21 points and 10 rebounds, and senior guard Tyler Hadley with 18. The Hawks went 18-of -25 from the free throw line and shot the same percentage from the three point line as they did from the rest of the field 47%.
The Spartans are now 2-2 in  region play and are in fourth place behind South Sevier , Richfield and Grand.
The next game for the Spartans will be Wednesday January 16  when they will face the Grand Red Devils (10-2, 2-2 in region). Tip-off is scheduled for 7 pm at the Spartan Center in Castle Dale. You can listen to all the action on 107.3 fm and 750 am KOAL and streaming live on castlecountryradio.com.