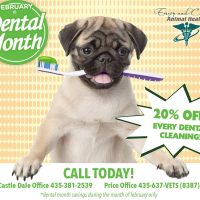 February is National Pet Dental Health Month and Carbon Emery Animal Health wants local pet owners to know how important oral care is for their pets.
"Dental health is really important for pets a lot of people don't understand or realize how much it affects their pet's overall health and they get infection in their mouth and tartar buildup and gingivitis, periodontal disease and that hurts, it's painful and it needs to be fixed," stated Dr. Sharmon Gilbert. An at-home dental examination should only take a few minutes. First, examine the pet's face for unusual swelling, next smell your pet's breath, then gently lift the lips to expose pet's teeth, be sure to check front and back teeth as well as examine the gums. If you notice abnormalities contact your local veterinarian to schedule an exam.
Recognizing signs of oral problems earlier in your pet's can prevent more advanced dental problems in the future. "It can really affect their overall health and make them really not feel well. I've had a number of clients that will take care of dogs teeth that are really infected and are bad and they're coming back a couple of weeks later telling me that their pet acts ten years younger and it fell so much better after having all the infection taken care of," stated Dr. Gilbert. Poor oral hygiene can lead to other health problems if ignored.
Carbon Emery Animal Health has two locations. The Price clinic is located at 1711 South Highway 10 or by calling (435) 637-8387. The facility in Castle Dale can be found at 490 West Hwy 29 or by calling (435) 381-2539. Carbon Animal Health is proud to service both Carbon and Emery counties. They are dedicated to providing the highest level of veterinary medicine along with friendly, compassionate service.
PHOTO COURTESY OF CARBO EMERY ANIMAL HEALTH